03-27-20
» Newman Roller Aluminum Frame
Newman roller aluminum frame, this series of aluminum frame can meet the needs of customers, and is welded to achieve excellent grid adhesion. All corners are completely sealed to prevent ink leakage. One side is specially prepared to make the fabric bonding fast and easy.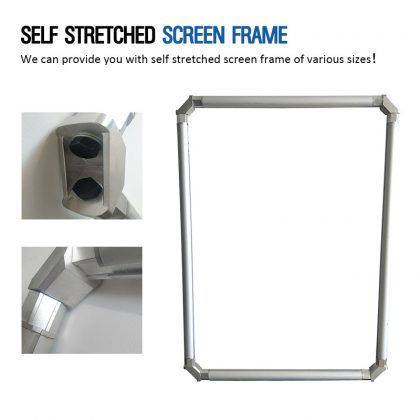 Features:
* Aluminum, lightweight and convenient, larger aluminum profile helps eliminate frame distortion.
* The surface is anodized for maximum strength and durability.
* Customizable size, humanized design, greatly improve production efficiency.
* The corners are carefully welded to provide a leak-free frame.
* This product is easy to clean, durable and can be used repeatedly.
How to use?
1. Rotate each roller so that the outside of the t-slot (closest to you) is aligned with the second mark on the "inside" top of corner surface.Secure both bolts of one roller before proceeding to its opposite roller, locking down each bolt using a torque wrench.
2.Preparing the mesh: Cut the edge of the mesh and rip the remaining way across. This assures thatthe mesh is torn on a single thread and that it is straight. Do the same for one of the adjacent sides of the mesh.
3. Insert the locking strip into the T-slot.
4.Softening the corners: Before tensioning, be sure to pre-soften the corners,This will prevent the mesh from tearing during the stretching process.
5.Tensioning the Mesh: Begin with either of the short rollers,Use the torque wrench to loosen each bolt of this roller two turns.
6.flatten the frame,Using a tensiometer.
Pre: SCOOP COATER
Next: Sobre serigrafia manual