12-17-19
» 62T-64 polyester screen printing mesh
155 Mesh is a highly elastic polyester monofilament mesh. 156 mesh is considered one of the most standard grid sizes. A mesh count of 156 leaves a fairly thick layer of ink, and this grid is a great choice for larger spot colors and blocky text letter designs. Therefore, use 156 mesh when you are printing with white ink or high opacity colors.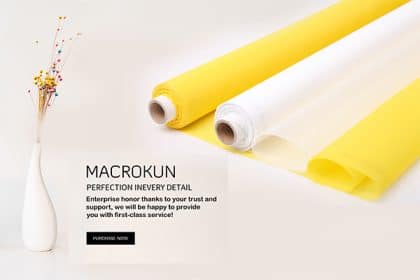 62T-64 155 mesh description:
Product Type: screen printing mesh
Material: 100% polyester monofilament yarn
Mesh count: 62T-64
Width: white color mesh max-width 368cm(145″);
yellow color mesh max-width 330cm(129″)
Length: 30m, 50m, or as per your request.
Applications: Textile inks, Opaque inks textile, T-shirts, etc.
The difference of white and yellow color screen printing mesh?
White mesh is the more economical of the two, and is primarily seen in lower mesh counts used for less-detailed designs. Higher count mesh is usually dyed yellow because the color yellow acts as a canceling factor for UV light and prevents refraction along the mesh strands when burning your screens. This allows for a more focused and precise exposure, keeping your screens as crisp as possible.
Pre: Bolsa de filtro de líquido soldada con anillo de plástico PP/PE/ malla de nailon bolsa de filtro de líquido de 5 micras
Next: DIY Screen Printing Kit