11-24-21
» platen paper for screen printing
Macrokun offers high quality self-adhesive paper press tapes for printing surfaces on screen printing equipment. Pressboard paper is based on imported parchment paper, and natural rubber and tackifying resin are the main materials of pressure-sensitive adhesive. It is combined with specific additives, coatings, packaging and other processes. Its excellent adhesion and anti-aging properties are used in the printing and decal industry.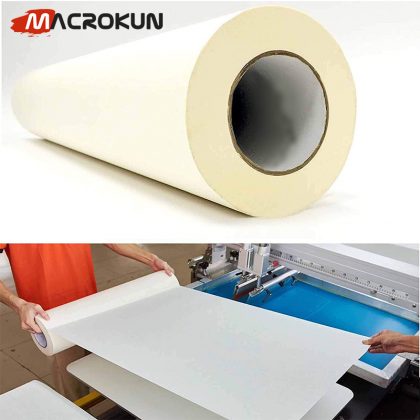 Advantage:
1. Good adhesion, no need to re-laminate, easy to cut, no curling.
2. Easy to disassemble, tear off the whole piece, easy to replace, no loss
3. High temperature resistance: Under high temperature conditions, it still maintains its performance without foaming.
4. Easy to clean, no residue, improve work efficiency and reduce time cost.
Storage conditions
Do not transport or store with volatile organic solvents, avoid direct sunlight and rain. Best performance within 6 months of purchase should be stored at 10°C to 30°C and 40% to 70% humidity. When storing, a pressure plate mask should be placed to avoid crushing.
Pre: Food grade 5 10 25 30 40 50 70 80 90 100 120 130 150 180 200 250 300 400 500 micron nylon filter mesh screen net sieve fabric