10-12-21
» platen paper
Macrokun provides high-quality self-adhesive platen paper, which uses imported parchment paper as the base material, and uses natural rubber and tackifying resin as the main raw materials for pressure-sensitive adhesives. It combines specific additives, coatings, packaging and other processes. Its adhesion performance and anti-aging performance are excellent, and it is specially designed to prevent ink overflow, leakage, spray glue and other textile printing tray protection.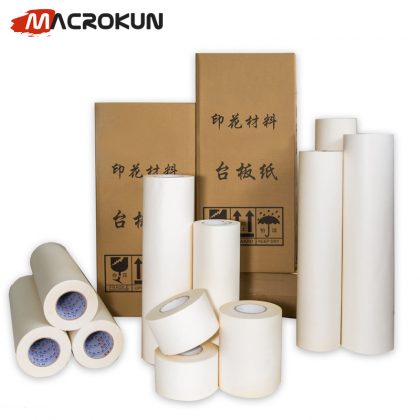 General specifications
500mm*100m, 550mm*100m, 600mm*100m, 650mm*100m, 700mm*100m, 1200mm*100m
Advantage:
Easy to laminate: good adhesion, no need to re-laminate, simple cutting, no curling.
Easy to disassemble: the whole piece can be torn off, easy to replace, no waste, protect the platen, and reduce solvent damage.
High temperature: Under high temperature conditions, it still maintains its performance, exceeding the printing oven, and will not foam. Durable: Use the same positioning when wiping with a cloth and do not replace it.
Cleaning: Imported parchment paper and natural rubber, no residue, no need to clean the platen, saving labor and improving work.
Application
Pallet tape is designed for textile screen printing to protect the platen from spray glue buildup. No need for expensive solvents and rags. Suitable for all kinds of printing machines (elliptical printing machine, octopus printing machine, etc.), as a piece positioning. It can also be used for the positioning of handprint platen and embroidery platen.
Pre: Malla de molino harinero para criba de cribas planas | Paño para pernos de tamiz de nailon y poliéster
Next: Colador de pintura de nailon de papel Embudos de papel desechables