12-15-20
» Various mouth shapes silk Screen Printing Squeegee Blade Rubber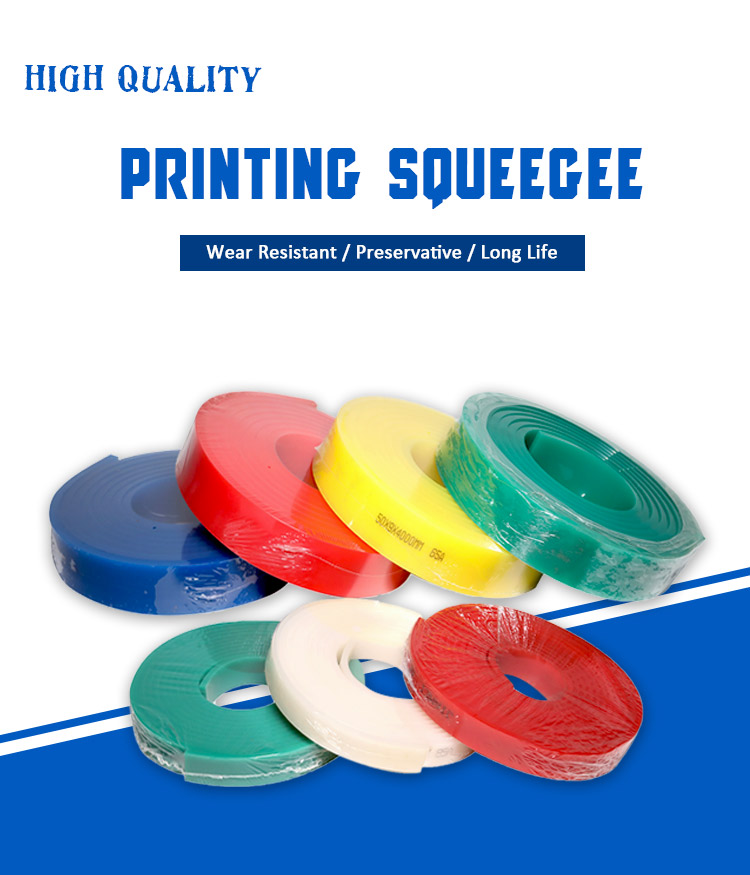 A squeegee is the glue strip used in the screen printing process. Most of them are made of PU material. According to the characteristics of the screen printing substrate, the precision requirements of the printing pattern, and the different printing methods, squeegees with different hardness and cross-sectional shapes can be selected.

Product name:
screen printing squeegee
Brand:
MACROKUN
Material:
Polyurethane
Length:
3660mm/roll,4000mm/roll, customized
Size:
25*5mm, 35*7mm, 50*9mm
Color:
red, green, blue, white,

etc, customized

Strip hardness:
55,60,65,70,75,80,85,90,95A
Blade shape:
flat, sharp, oblique, blunt
Product use:
Make glue or ink flow through the screen to contact the substrate material,

ensure that the screen is suitable for the surface of the substrate, and can remove excess glue and ink on the screen

Storage method:
After using it up or not using it for a long time, the blade should be cleaned with water or net water. Wash it clean and keep it in a cool place to extend the life of the tape
Welcome to buy the screen printing squeegee produced by MACROKUN, our screen printing
squeegee has a variety of sizes and hardness for your choice!

PU100
PU300
PU500
PU800
Triple Layer
±Tolerance
Thickness
2-20mm
±0.3mm
Width
9-500mm
±1.00mm
Length
10-4000mm
±5mm
Hardness
55-95 Shore A
±3A
MK-PU100
Usage: Widely used in t-shirts, textile printing, etc.
Feature: Resistant to water-based inks and common solvents.
MK-PU300
Standard References :  Soft 65sh A red / Medium 75shA green
Usage: Widely used in UV inks, CD/DVD, disc, glass, ceramic, package, PCB printing, etc.
Feature: It is an all-purpose polyurethane blade with well-combined resistance to chemicals and abrasion. it was developed to withstand various applications in screen printing.
MK-PU500
Standard References :  Soft 65sh A red / Medium 75shA green
Usage: Widely used in PCB, Solar panels, touch screens, glass, decal paper printing, etc.
Feature: It is a special polyurethane blade with excellent combined resistance to chemicals and abrasion. It was developed to withstand the toughest applications in screen printing and to have a long shelf life in most environments and sharpen well.
MK-PU800
Storage of squeegee: Squeegee needs to be put in a dry and cool warehouse for long time storage. Newly purchased squeegees, you'd better rotate to use it, after daily use, just clean the solvent on the squeegee surface, and keep the squeegee edge upward.
Usage: Widely used in UV inks, glass, ceramic, PCB and electronics printing, etc.
Feature: Raw material from Taiwan, super solvent resistant, abrasion resistant, longer service life,anti-static.
Triple Layer
Triple soft 65/90/65 shore A Red/White/Red Advantages.
Good resistance to chemicals & abrasion.
Resistance to abrasion.
Sharpens easy.
Color-coded for easy identification.
High environment stability.
Individual package and batch Applications
Standard Hardness
Soft
55,60,65
Shore A
red or natural
Medium
70,75
Shore A
green or natural
Hard
80,85
Shore A
blue or natural
Super hard
90,95,
Shore A
white
Triple medium
75/90/75
Shore A
green/white/green
Triple soft
65/90/65
Shore A
red/white/red
Standard Profiles                                                  
E1:Straight Square Edge
E2:Single Bevel+Flat tip
E3:Single Bevel
E4:Double Bevel+Flat tip
E5:Double Bevel (V shape)
E6:Bull Nose (round top)
E7:H shape
E8:Triple layer
E9:Double layer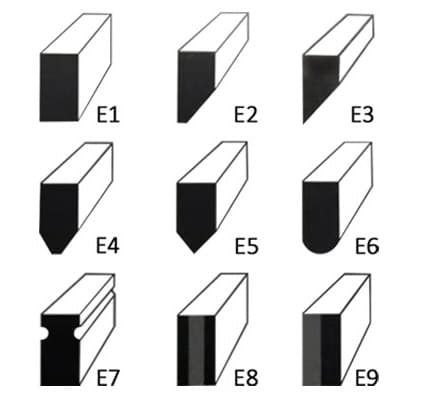 The flat-mouth squeegee has a certain adaptability and can withstand higher pressure.
The inclined squeegee has the characteristics of flat scraping and sharp scraping, and it is not easy to collapse.
The sharp-edged squeegee has good flexibility, and compliance, reduces pressure, and is suitable for printing on uneven surfaces.
The larger the degree of the strip, the harder the squeegee, and the smaller the degree, the softer the squeegee.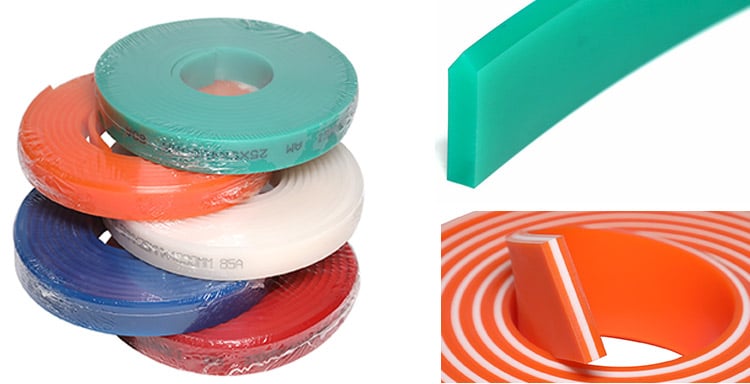 Product Features:
1. High abrasion and tear resistance resulting in better elasticity.
2. Excellent resistance and minimum swell to a wide range of pastes, inks, and solvents.
3. Precisely finished edge.
4. Hyper solvent resistance.
5. Has good abrasion resistance, and can be repaired with a scraper.

Use Suggested:
When using, try to avoid excessive pressure of the scraper on the screen, which will cause: the ink layer to be extremely thick, difficult to control, and will also wear the screen excessively. printing with proper pressure. When loading the squeegee into the handle, do not apply excessive pressure or use a thick gauge to press it in, the squeegee should take regular breaks, not continuous use.
Cleaning Method:
Wipe off excess ink with a cloth first, and then use a soft cloth dipped in a suitable solution to clean it. Do not use strong corrosive solvents. After grinding, the spatula should be completely idle before use to allow the solvent on the spatula to fully evaporate.
Grinding Method:
Common grinding methods can be used: belt type, and grinding wheel type. The squeegee must be kept dry during grinding, and the squeegee after grinding should not be wiped with solvent immediately.
Storage Method:
For long-term storage, the squeegee should be wrapped and placed flat in a dry, cool, and dark room. Avoid direct light exposure, otherwise, the performance and hardness of the scraper will change.
Pre: Screen Printing Inkjet Film
Next: Aquarium filter socks