05-26-23
» Diazo Emulsions for Screen Printing
When screen printing with water-based inks, you may notice that your stencils become less clear over time due to the high water content in water-based inks. So it's important to use a waterproof lotion when painting the screen.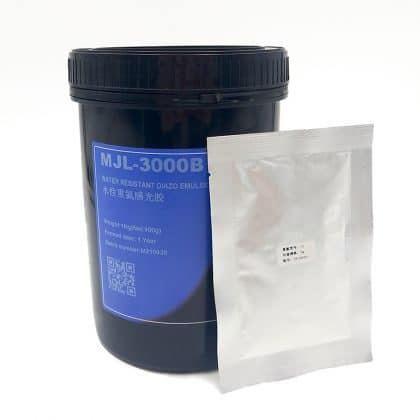 Product informations:
Product name: Water Resistant Diazo Emulsion
Product model: MJL-3000B
Product weight: 1KG(Net:900g)
Shelf life: 1 year
Product color: Blue colloid
Product use: Silk-printed aluminum frame, wooden frame stretched net fixed mesh, fast bonding
Feature:
1. Easy to color, short drying time, high screen production efficiency
2. Excellent durability, excellent solvent resistance.
3. Easy to recycle, prolong the reuse of the screen.
4. The water-based diazo photosensitive adhesive is easy to use and has high bonding strength.
Pre: Limpiar una bolsa de leche de nuez