10-12-22
» Paint Strainer Bag
The paint filter bag is woven with nylon with a pore size of 200 microns, which can filter out debris and large pieces of paint, ensuring that industrial painters will not be blocked when using. It's sized to fit perfectly into a 5-gallon pail.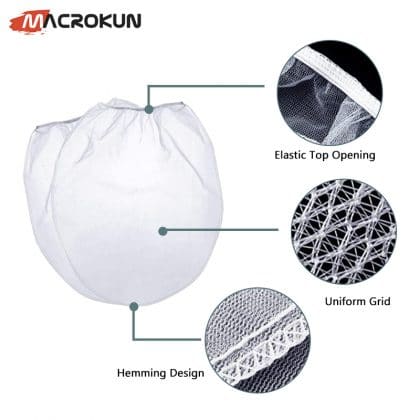 Product information
Product Name: Paint Strainer Bag
Material: High quality Polyester And Nylon
Mesh Opening: 450 micron / customizable
Size: 1 Gallon /2 Gallon /5 Gallon /Customizable
Temperature: < 135-150°C
Sealing type: Elastic band / can be customized
Shape: Oval shape/ customizable
Product advantage
1. The filter bag is made of polyester and nylon, which can be taken out and cleaned repeatedly, which is economical and applicable.
2. Each filament is twisted together by multiple filaments with the same diameter and smaller, and then woven into a certain uniform mesh according to a certain latitude and longitude.
3. The bag mouth adopts elastic mouth and unique edging technology to prevent needle leakage to the greatest extent.