04-14-20
» High Quality Nylon Tea Filter Bags
Have you ever encountered the embarrassing situation that the tea bag is inconvenient to carry, when brewing the tea bag, the penetration is slow, the tea bag is easy to break, and the tea leaves leak? We can provide you with a new type of nylon tea bag, so you don't have to worry about it anymore.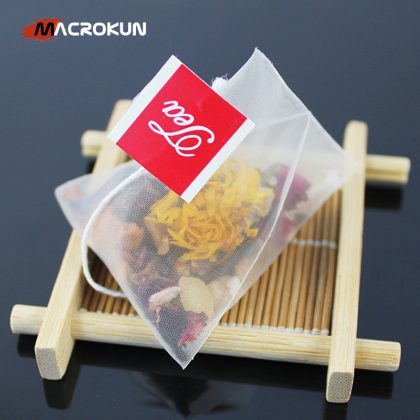 Specifications:
Product name: Nylon triangle tea bags
Material: Nylon
Color: Transparent
Product usage: Suitable for black tea, green tea, herbal tea, health tea, etc.
Specifications: 5.8*7cm  6.5*8cm
Label: 20*20mm  25*25mm  Single-sided printing, Double-sided printing,Shaped custom labels
Features:
1. Tea leaves are easily infiltrated after being boiled and filtered, releasing aroma and color.
2. Comply with the hygienic standards of food packaging materials and do not harm the human body.
3. No filter is needed when brewing the three-dimensional triangular bag.
4. Make full use of the original tea leaves, and the heat-resistant mesh can be brewed many times.
Pre: Diazo Emulsions for Screen Printing
Next: Nylon Filter Mesh