02-17-20
» Paint Strainer Bag
The paint filter bag is used to remove dry flakes, clumps, filaments and other dust particles on the paint. By removing unwanted particles, it eliminates the risk of dry paint sticking to the paint roller and getting stuck in the paint sprayer.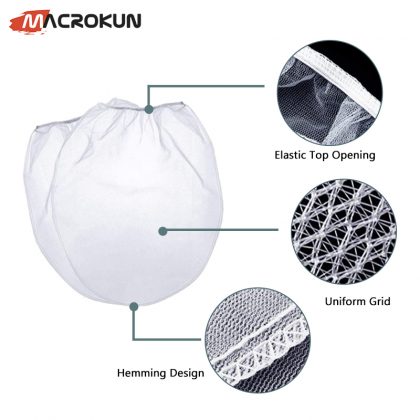 Features:
1. The filter bag is made of polyester and nylon, sturdy and durable, non-toxic and tasteless, safe to use, can be taken out and cleaned many times, economical and applicable.
2. The bag mouth adopts elastic mouth and unique hemming technology to prevent leakage of needles to the greatest extent.
3. The specially designed elastic top opening can be applied to various filter cartridge containers and expand the scope of use
4. The mesh filter bag is waterproof, anti-static and easy to use. It can be directly put on the barrel, and the elastic band can be fixed on the edge of the barrel.
Product information
multiple uses
1. Paint-remove particles and clumps from paint
2. Hydroponics-contains perlite or other growth media and filters the water
3. Beekeeping-filtering honey from crushed honeycombs
4. Gardening-placed on plants to prevent pests, but allow sunlight
Pre: 23X31 Aluminum Screen Printing Frames with Mesh