09-13-21
» M&K-1215 Dw Double Clamp Worm Screen Stretching Machine
M&K-1215 Dw Double Clamp Worm Screen Stretching Machine 
1.the beam with 1200x80mm special square tube production,tension up to 45 Newton,long-term high tension pull the net beam is not deformed.
Built-in track skateboard,four sides of the beam can be movable type,flexible and convenient to shrink,according to the size of the network frame to adjust the net area,effectively save the yarn.
2.the use of material system pull net chuck,chuck base plate with 45 thick  steel plate bending welded together,can withstand long-term high tension, chuck with the import of rubber strips,do not fall of,do not hurt the mesh, not Retreat.
3.the use of Taiwan imported turbine rod gear box drive,the use of gears,racks and linear bearings do travel guide,changing the traditional chain drive,this design is more evenly,higher precision,pull the net more light.
4.with four synchronous top mes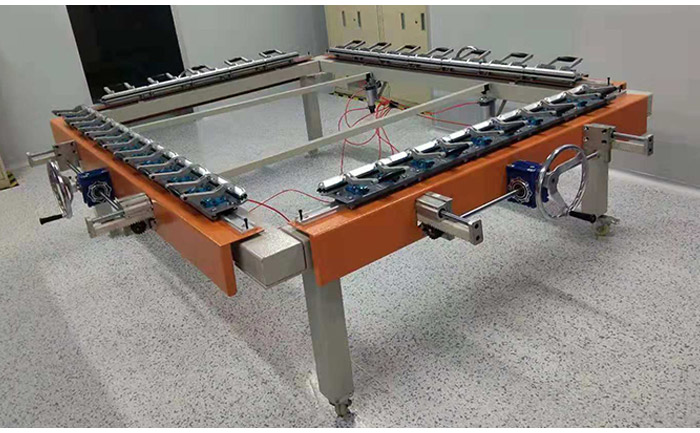 Information
Name
 Double Clamp worm net machine
Type
 MK-1215 DW
Max  working  area
 1200x1500mm
Maximum  tension
 45N
Working  air  pressure
 0.40-7MPa
Gross  weight
  250 KG
Top  network  using pneumatic elevation, flexible  and   reliable
Adopt worm structure, when stretching, adjust accurate run distance of mesh, effort-saving, non-springback.
Pre: Plastic Ink knife and ink spatulas for screen printing