05-13-20
» Clod Drew Coffee Bag
One of the main advantages of cold brew coffee is its simplicity-with our cold brew filter bags, self-cooling coffee brewing is easier than ever. We reduced it to a filter bag, and you can use it with any container. If you prefer iced coffee with a smooth and mild taste, then cold brew coffee is the right brewing method for you.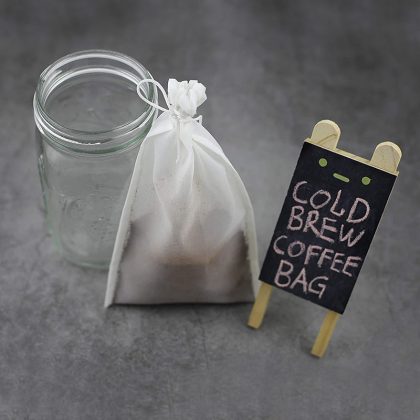 Advantage:
1. The filter bag can be tightened with a drawstring, easy to use, and can be hung to dry
2. High-strength polyester filter bag, with five-thread seam hemming technology, high pressure resistance
3. Using food-grade nylon, high temperature resistance, harmless to the body, and can be used repeatedly
Brewing method
1. Fill the filter bag
Put coffee into our filter bag and gently pull the drawstring until the bag is tightly sealed, which prevents coffee from spilling.
2. Put the bag and water into the container
Put the filter bag in the container and pour it into room temperature or cold filtered water. It is worth noting that please close the container tightly and avoid direct sunlight. Because higher temperatures will accelerate the oxidation and brewing process, it may leave you with a bitter taste.
3. Wait
Cold brew coffee requires a certain amount of patience. It is generally recommended to wait 12 to 18 hours. Because the extraction speed of cold water is slower than that of hot water, you need to wait a longer brewing time to produce a richer concentrate, but the soaking time should not exceed 18 hours, as this will cause bitterness.
4. Tasting
After 12-18 hours, your cold drink is ready! The coffee brewed in this way will be strong enough so that ice, milk or dairy products will not dilute the flavor too much.
Pre: M&K-1215 DW DOUBLE CLAMP WORM SCREEN STRETCHING MACHINE