09-24-21
» Biodegradable non woven drawstring tea bag
PLA non-woven fabric is a new type of bio-based material, which extracts and fermentes starch from plants to produce lactic acid, and then uses advanced polymerization spinning technology to make PLA polylactic acid fiber. Products made of this material are healthy and safe, non-toxic, tasteless, and harmless to humans. It has good uniformity, drape, smoothness, breathability, natural antibacterial properties, good skin affinity and anti-ultraviolet properties.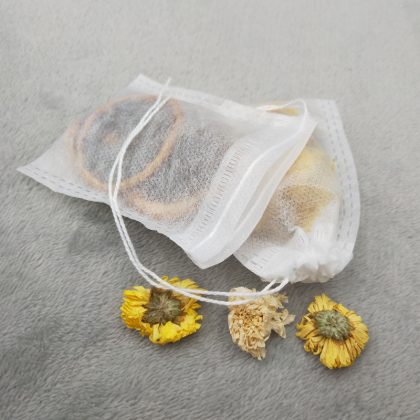 Detailed specifications:
Name: Biodegradable non woven drawstring tea bag
Material: Non-woven
Thinkness: 0.1-0.25mm
Size: 5.5*7cm, 6*8cm, 7*9cm, 9*10cm, 8*12cm, etc, the size will be according to clients' details
Advantage
1. It is biodegradable, non-toxic, tasteless and harmless to the human body.
2. Moisture-proof, breathable, flexible, light weight, non-combustible
3. High-temperature equipment pressing technology, neatly routed, and the bag body is not easy to crack.
4. The drawstring seal design is easy to use and prevents the filter residue from leaking.
5. The texture is light and thin, the mesh is even, and it is not easy to leak.
Pre: Paint Strainer Bag