08-02-21
» MK9065-3D50 LAYERS SCREEN DRYING RACK
MK9065-3D50 LAYERS SCREEN DRYING RACK
DESCRIPTION
| | |
| --- | --- |
| Product Code | 006019 |
| Product Name | MK9065-3D50 Layers Screen Drying Rack |
| HS code | 8443911900 |
| Product Color | Blue |
| Net specifications | 35*26inch |
| Layer quantity | 50 |
| Linear | outer frame:4.5mm;    inner line 2.5mm |
| Net material | Steel wire galvanized |
| Each space |                   1-2 inch |
| Machine using material | steel plate |
| Machine surface treatment | Electrostatic spraying |
| Attachment material | Stainless steel or zinc plating, nickel plating |
| Machine size | 41*28*54inch |
| Net weight | 139lb |
| Gross weight | 154lb |
| Packing size | 44*31*16inch |
| Packing volume | 0.36 m³ |
| Packing material | Export fumigation-free wooden case |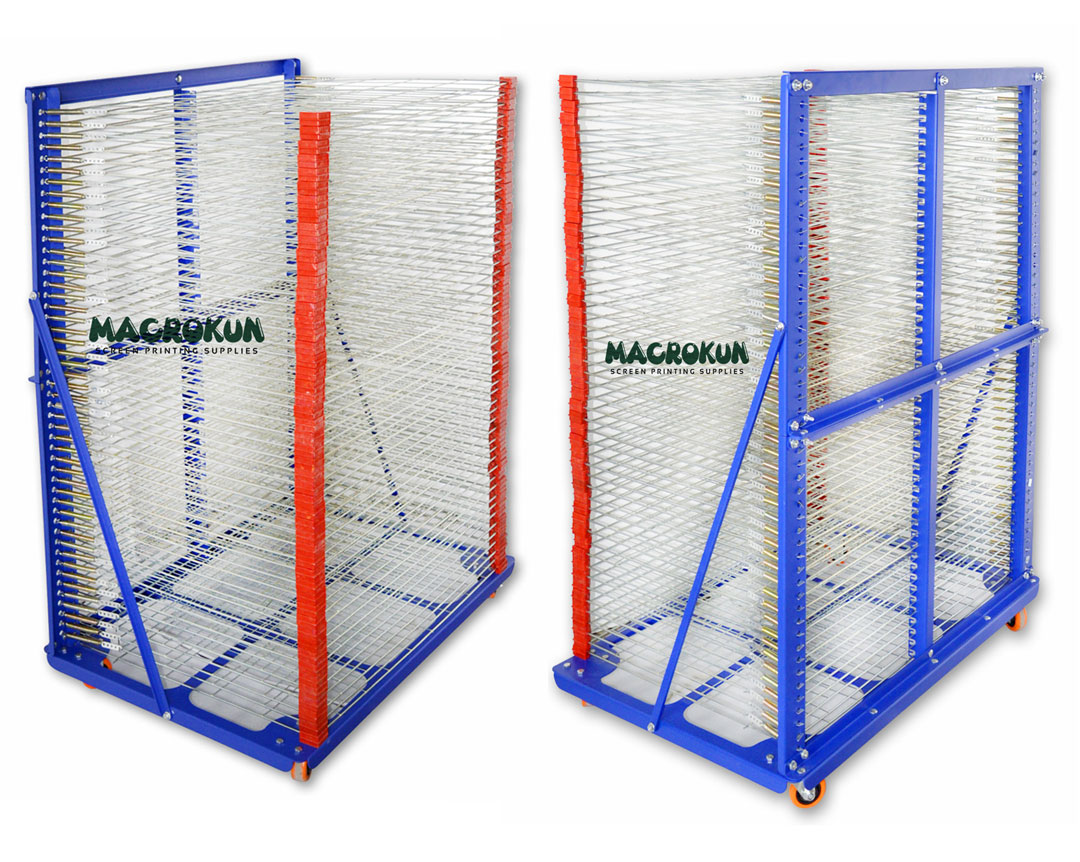 Screen printing Drying rack, also known as thousands layer rack.
It is mainly used in stacked drying and transporting various products after printing .Save space, improve efficiency;
It is often used to pushing printing products overall to dry under the sun.
The advantages of the screen printing drying rack:
1.The main body of the machine is separate structure , the package volume is small, it is only 35% of the traditional dry rack ,
and the shipping fees is lower.
2.The traditional drying rack can't be packed, and it is easily knocked, deformed, the surface of the rack wear out badly.
The the new rack is wooden case safe packing,and it can solve the above problems.
3.Users can change the quantity of layers and the height of each layer according to need.
A.The main body of the drying rack is combined structure, the machine is connected completely by bolts , no welding point,
the customer can install it easily according to the installation manual.
The main body of the screen printing drying rack is composed of three independent joinable parts,users can finish the main
rack by connecting the three parts with a bolt, there are two tilted supports which can be micro adjusted from front to back ,
and they can make the main rack be more stable.
B.The main body structure is advanced electrostatic spraying; Mesh size is 90 * 65 cm; Total 50 layers; the mesh layer adoport foot is engineering plastics.
There is no collision noise when lift up or put down the mesh layer; The whole rack is resistancets galvanized process, the foot pads are engineering plastic,
and the falling mesh has no metal impact noise;The whole rack is corrosion, easy to clean, no rust after used many years .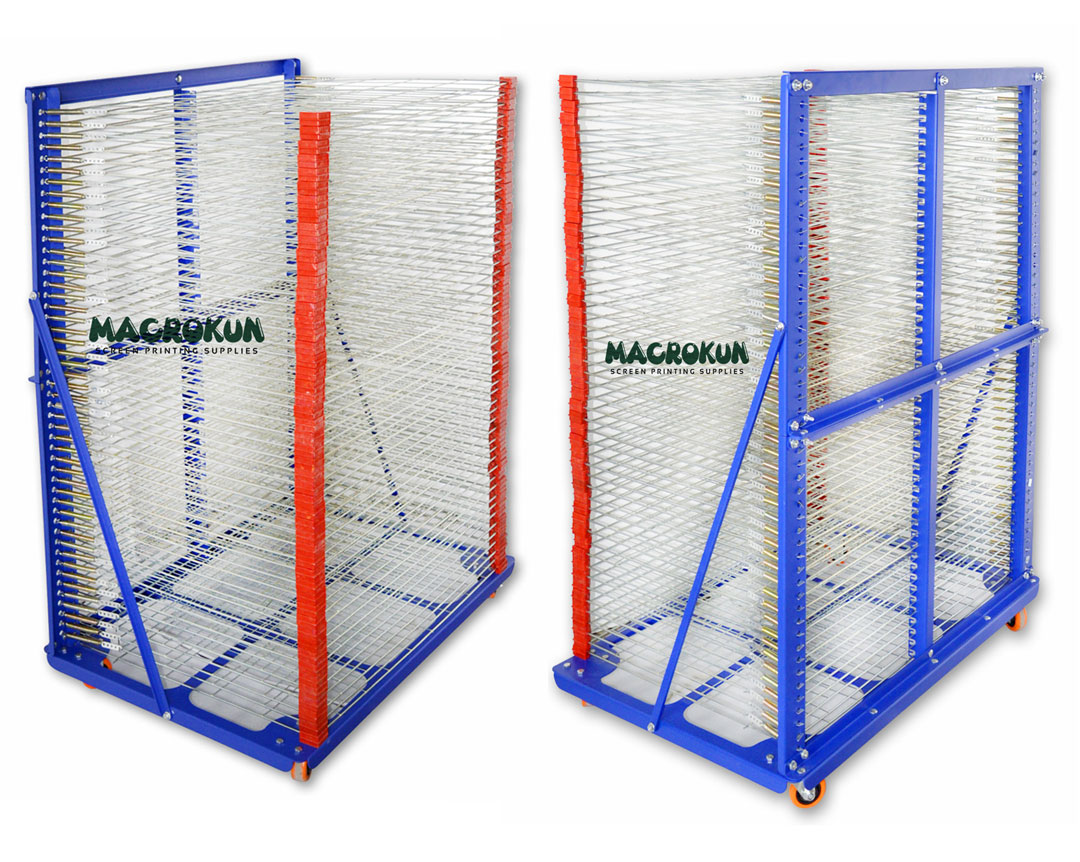 C.The rack is total 50 layers, when need to place products with height over 2.5 cm, below 5 cm , the middle layer of the three layers can be removed,
connect the plastic foot pad and the upper layer plastic foot pad with screws, the rack can be transformed into 25 layers, each layer's height is 5 cm .
D.The rack adopts the export fumigation-free packaging wooden box, packing size is 115 cm long; 80 cm wide;34 cm high, the whole case volume is 0.36 m³
(the traditional drying rack is 1 m³ ; this package is only one third of the traditional drying rack volume); and it completely avoids the surface abrasion,
knock against, deformation during the transportation ) Due to the decrease of the packing volume, transport costs will be greatly reduced,
especially for overseas shipping, shipping costs can save more than 60%.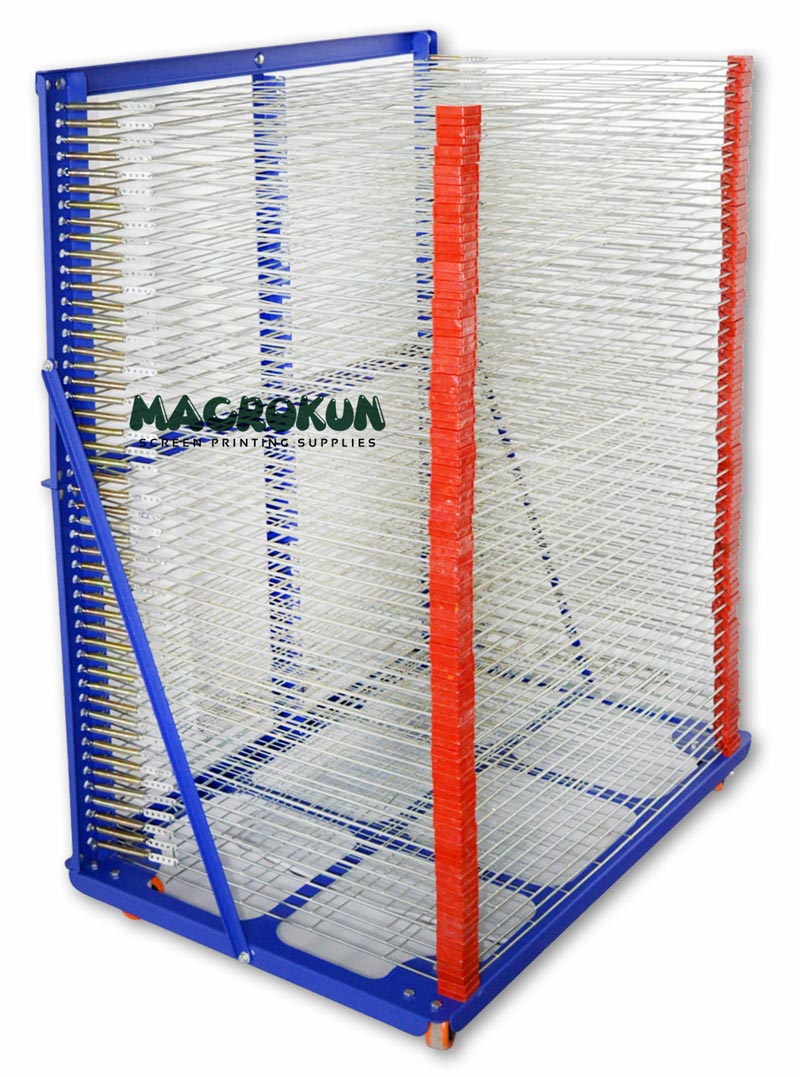 E.It is equipped with 3 inch universal mute nylon casters at the bottom of the rack; Arbitrary flexible steering, mute, wear-resisting.
F.The machine has a full set of installation tools and installation manual , there are also spare parts components.
Pre: Hoja de pantalla de filtro de malla de nailon