12-01-20
» 5 gallons 8 bags of mesh herbal ice foam nylon mesh filter bag
5 gallons 8 bags is the world's highest quality plant extract extractor. It allows to divide your herbal extracts into different grades, and different plants have different crystal sizes, so this will allow you to keep the best extracts from the garden.
Each kit including
Purple – 25 Microns;
White – 45 Microns;
Yellow – 73 Microns;
Black – 90 Microns;
Orange – 120 Microns;
Red – 160 Microns;
Green – 190 Microns;
Blue – 220 Microns
25 Microns Pressing Screen,10*10″
Black carrying bag for easy storage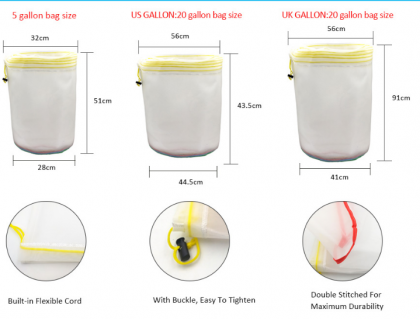 Designed to fit most 5-gallon barrel rims
Convenient locking drawstring makes handling a breeze
Durable high-quality nylon material.
The built-in rope can easily tie the bag after extraction.
The bags are marked and color coded according to the corresponding micron grade.
The smaller the micron screen, the less crystal escapes and the better the filtration performance.
Pre: Varias máquinas para serigrafía Pulpo 4 colores y 2 estaciones