12-09-21
» Screen printing kits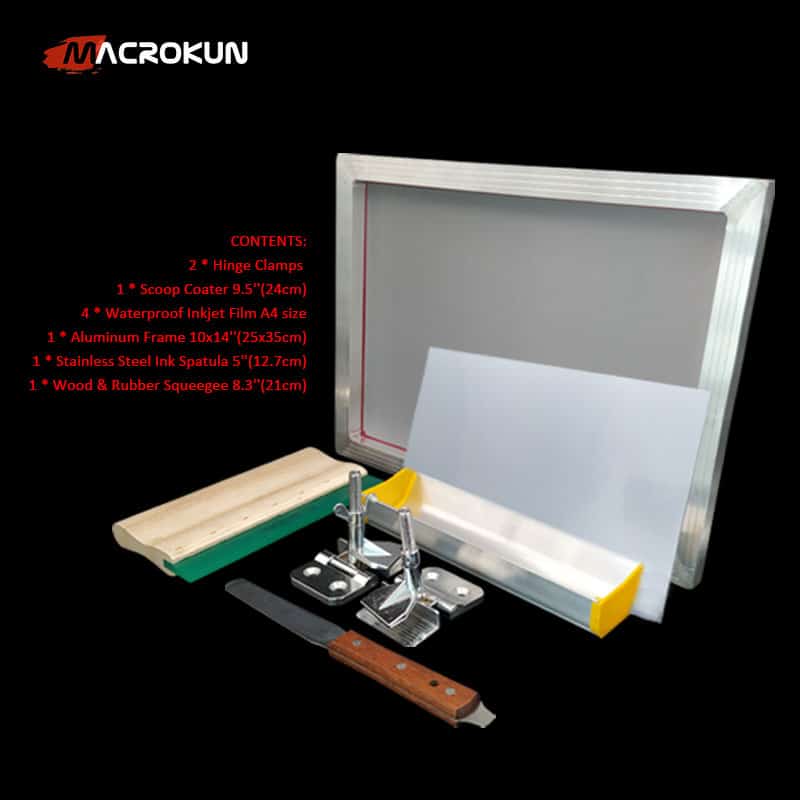 This product is printed on clothing (especially T-shirts), woven fabrics, metal, paper, notebooks, plastics, circuit boards, wood, glass, tiles, leather and other smooth printing substrates. This makes it particularly suitable for small businesses and personal printing shops.
1 x ALUMINUM FRAME: 10*14"(25*35cm)
* Robust ensuring long term use,is easier to clean and does not deform compared to wooden frames.
* Pre-stretched with high grade 110 white mesh and bonded with highest chemical resistance glue.
* Screen will stay tighter for longer ensuring reproducible results.
1 x SQUEEGEE: 8.3"(21cm)
* Made from high quality polyurethane blade.
* Blade has the ideal durometer (hardness) that determines the amount of pressure required to push ink through mesh .
* Smooth sanded ergonomic wood handle.
1 x SCOOP COATER: 9.5*2.8*1.4"
* Designed for easy and comfortable handling while providing guidance to coat a smooth layer of emulsion on your screens.
* Angled end caps on scoop help to ensure the emulsion. stays in contact with the screen.
4 x WATERPROOF INKJET FILM : A4
* High quality base PET material with anti-static, great registration and no curling.
* Accurate dot placement results in excellent line definition and acuity. Great film opacity.
* Film has a Light Milky Finish, High ink load capacity, instant drying, waterproof.
1 x STAINLESS STEEL INK SPATULA: 5"(12.7CM)
* Stainless steel blade,Mirror polished, easy to clean, not easy to rust.
* Taper ground blade for even flexibility.
* Natural wood handle
* With Crowbar for open caps of ink cans.
2 x HINGE CLAMPS: 410G
* For keeping the frame stationary while printing, Instead of having to hold it yourself.
Pre: Screen printing kit
Next: NYLON FILTER MESH