04-21-20
» Screen Printing Platen Paper
The platen paper of Macrokun's uses imported parchment paper as the base material, and uses natural rubber and tackifying resin as the main materials of the pressure-sensitive adhesive. It is combined with specific additives, coating, packaging and other processes. Its adhesion performance and anti-aging performance are excellent, and it is used in printing and applique industries.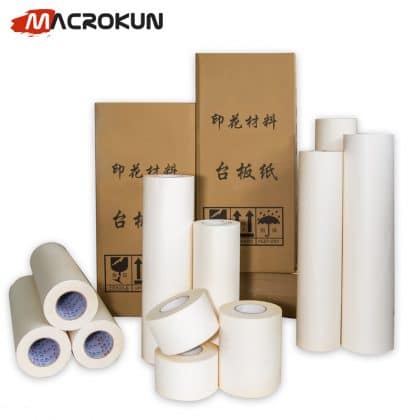 Advantage
1. Waterproof, Quick dry
2. High flatness
3. Transparent, milky white
4. Extend the life of your pallets
Before use, ensure that the platen clean hairless.
Uniform intensity and pull the mask laid flat on the platen.
Cut the platen mask with a knife.
3. Then scrape the platen mask with hand or scraper, So that more closely linked to platen.
4. Draw lines on the platen mask positioning.
Platen paper tile on the plank then coated with water-based glue or oil-based glue depend on the fabric situation),put pieces.
If you need to replace, without cleaning the platen.