Liquid Filter Bag Polyester Filter Bags 10 micron 25 micron 50 micron 100 micron
Macrokun Liquid Filter bags include Polypropylene Felt PP Filter Bag , Polyester PE Felt Filter Bag , They  are typically placed inside a housing Filter and are used to liquid. Filtration bags can be used in aquariums , pools and ponds, dust collectors, vacuums, and many industrial applications.
Key benefits
Micron ratings from 1 to 200
All industry standard & custom sizes available
Broad chemical compatibility
High flow / low pressure drop
Sewn or fully-welded construction
Choice of steel ring or plastic flange
Polypropylene and Polyester materials meet FDA regulations .
Silicone-free construction
High dirt holding capacity
Ability to remove both solid and gelatinous particles
Low cost
Glazed / singed finish on Polypropylene & Polyester reduces fiber-shedding
Size of Filter Bag : 
1#  filter bag: Φ180×450mm  (Φ7×17 inch )
2 # filter bag:Φ180×810mm  ( Φ7×32 inch )
3 # filter bag:Φ105×230mm   (Φ4×9 inch )
4 # filter bag:Φ105×380mm  ( Φ4×15 inch )
5 # filter bag:Φ152×510mm (Φ6×20 inch )
Macrokun Filter bags are usually felt or mesh and can be made from a variety of materials for varying applications, including nylon, polypropylene, polyester, and porous PTFE film. Stainless steel mesh is sometimes used as well.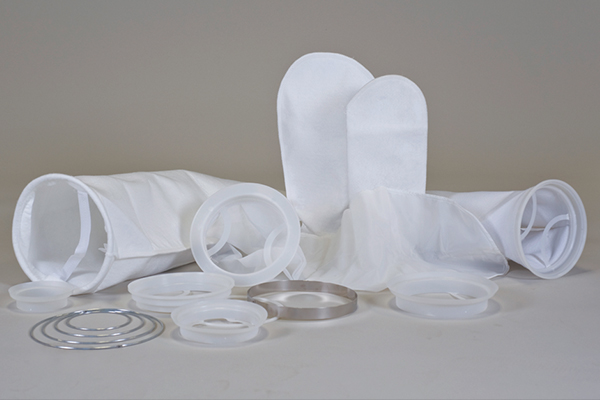 Macrokun Felt Liquid Filter Bags: Micron Ratings from 1 Micron to 200 micron ;
Good  Chemical Compatibility; Choice of Steel or Plastic Ring; Polypropylene Felt or Polyethylene Felt ;Macrokun Mesh Liquid Filter Bags – Micron Ratings from 1 micron to 1500 micron ;
Good Chemical Compatibility; Choice of Steel or Plastic Ring; Polyester and Nylon , NMO ;
Macrokun High Efficiency Liquid Filter Bags – Micron Ratings from 1 miron  to 50 micron ;
Good  Chemical Compatibility; Efficiencies to 95.0%; Choice of Steel or Plastic Ring ;
High Performance Liquid Filter Bags – Micron Ratings from 1.0 to 32 ; Stainless Steel Ring Standard ; Good Chemical Compatibility; Absolute Efficiencies to 99.0% ;
| | |
| --- | --- |
| Filter Media | Polyester Filtration Felt / Polypropylene Filtration Felt |
| Filter Precision | 1 micron , 10 micron , 25 micron , 50 mircon , 75 mircon , 100 micron, 200 micron |
| Size | 7"x 17" , 7" x 32" , 4.12" x 14" , 5.5" x 15" , 5.5" x 21" , 8.5" x 30" . |
| Chemical Resistant capability | Good acid resistant , good alkali resistant |
| Rings | Steel ring , plastic rings |