09-14-21
» 59T polyester screen printing meshes
59T polyester screen printing meshe is a synthetic silk mesh fabric made of high-quality, high-viscosity polyester fibers after molding, weaving, finishing and modeling.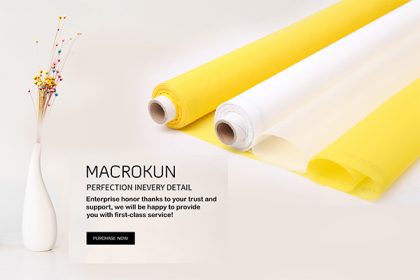 59T-55 150 mesh description:
Product Type: screen printing mesh
Material: 100% polyester monofilament yarn
Mesh count: 59T-55
Width: white color mesh max-width 368cm(145″);
yellow color mesh max-width 330cm(129″)
Length: 30m, 50m, or as per your request.
Applications: Textile inks, Opaque inks textile, T-shirts, etc.
The difference of white and yellow color screen printing mesh?
White mesh is the more economical of the two, and is primarily seen in lower mesh counts used for less-detailed designs. Higher count mesh is usually dyed yellow because the color yellow acts as a canceling factor for UV light and prevents refraction along the mesh strands when burning your screens. This allows for a more focused and precise exposure, keeping your screens as crisp as possible.
Pre: ROSIN FILTER BAG
Next: NEWMAN Self Stretching Roller aluminum Screen printing frame