Fiber Glass Board Squeegee For Solar Description:
Applicable industries: touch screen industry (cover printing, TP module printing), photovoltaic industry (cell printing), microelectronics industry (resistance printing, oxygen sensor printing, through-hole printing, PCB circuit board industry), automotive industry (dashboard Printing, interior parts printing, IML in-mold forming), home appliance panel industry (face-printing, IMD in-mold injection printing, crystal glass printing, film switch), light guide board industry (liquid crystal module, panel light), label (electronic tag, radio frequency tag RFID)
1.Fiber Glass Board Squeegee For Solar 
The traditional squeegee is all urethane rubber, which is printed for a long time,After the squeegee absorbs the solvent in the ink, the hardness is reduced, the expansion deformation, the printing angle α is unstable, and it is not suitable for precision screen printing. The Fiber Glass Board Squeegee is combined with the glass fiber board and the scraping glue, which has the elasticity of the scraping rubber and the support line of the glass fiber board. The long-time printing can maintain a stable printing angle and the printing ink thickness is uniform.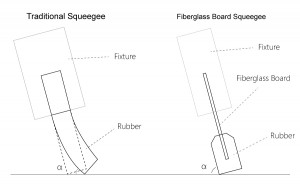 2.Size and hardness
2.1 Size


Unit:mm
Code
L
a
b
f
c
d
R
Size
180
9.2
50
1.6
15
20
2.5
Tolerance
±1
±0.3
±0.5
±0.2
±0.2
±0.5
±0.5
2.2 Hardness 
Different hardness corresponds to different colors
Polyurethane squeegee type M
MADE IN JAPAN
Cyan—62±3
Hardness Tester
TYPE-A
GS-719N
Green—70±3
Blue—75±3
Yellow—83±3
 3.1 Material 
3.2 Polyurethane rubber
Polyurethane rubber made in Japan
3.1.1 Physical properties
Project
Unit
Squeegee type M
colour
Cyan 62A
Green 70A
Blue 75A
Yellow 83A
hardness
JIS-A
62±3
70±3
75±3
83±3
100% stretchability
MPa
2.52
2.77
3.70
5.89
200% stretchability
MPa
 3.72
4.09
5.38
8.63
300% stretchability
MPa
6.50
5.85
7.38
11.1
Maximum stretching
MPa
35.1
24.6
17.2
11.7
Tensile limit
%
632
563
521
523
Breaking strength
KN/m
45.4
55.5
67.7
81.5
3.1.2 Chemical solvent resistance
Test time: 7 Days
Test solvent: xylene, methyl ethyl ketone
Test items: hardness change, quality change
3.2 Fiberglass board
The high quality fiberglass board has uniform thickness, good elasticity and chemical resistance.

4.Production process
The entire process from receiving an order to shipping
5.Packaging, storage 
5.1 packaging
Paper package
10Pcs/Box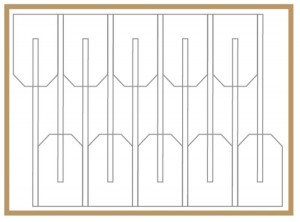 5.2 storage 
①Store indoors at 40℃or lower, do not store in high temperature and high humidity, direct sunlight and ultraviolet radiation. (Recommended storage conditions: 23℃±2℃, humidity 60% or lower)
②Do not store near heat-generating equipment or dusty places.
③It is forbidden to bend and press, stack it straight, stack no more than 20PCS.
④The scraping rubber is stored at a low temperature for a long time, and can not be used immediately after being moved to the workshop. It should be placed at 25℃for more than 3 hours before use.