04-20-20
» Hush Bubble Bags
Hush Bubble Bags are sets of filter screens used to separate and collect trichome heads from cannabis plant material during the ice water extraction process. They are the main pieces of equipment used to make bubble hash.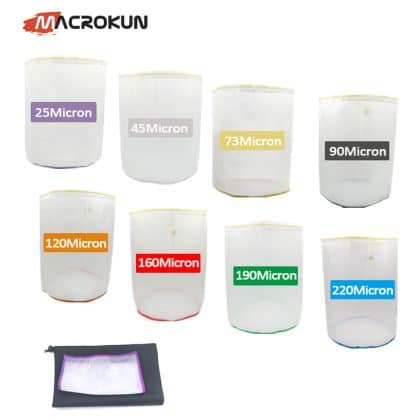 Detailed specifications
Product Name: Mesh Bubble Filter Bag Kits
Material: Nylon mesh
Capacity: 5 or 20 gallon
Quantity: 3/4/5/8 bags
Aperture: 25um, 45um, 73um, 90um, 120um, 160um, 190um, 220um
Color: Purple, Yellow, Red, Blue, Orange, Black, White, Green
Advantage:
1. The entire filter bag is mesh screen from top to bottom, and maximum yield make it fast and easily removing dust, leaf and other contamination than other bubble bags.
2. Made of durable nylon mesh material. Can be reused. Double stitched for maximum durability. Built-in cord for tying up filled bags.
3. Streamlined design to help customers get the best quality extract to the greatest extent.
5. The bags are color coded to the corresponding micron rating, so you always know the micron rating even without the label.
The bubble bag is made of durable waterproof high-density coated nylon material with a built-in flexible cord for tying the filling bag. Available in 5 gallon drums or 20 gallon drums.
Pre: Stainless steel reversed dutch wire mesh
Next: Preguntas frecuentes sobre cómo seleccionar bolsas de filtro de colofonia