08-21-20
» BUBBLEBAGDUDE Bubble Bags 5 Gallon 5 Bag Set.
Herbal Extracts Bubble HASH ICE EXTRACTOR Kit
Bubble Ice hash filter bag enables you to extract valuable plant resins and separate herbal extract into different grades. Removing dust, leaf and
other contamination and holds all the finest and smallest high quality herbal crystals/pore size, making sure no crystals escape.
Bubble filter bag Each kit including
Purple – 25 Microns;
White – 45 Microns;
Yellow – 73 Microns;
Black – 90 Microns;
Orange – 120 Microns;
Red – 160 Microns;
Green – 190 Microns;
Blue – 220 Microns
25 Microns Pressing Screen,10*10″
Black carrying bag for easy storage
| | |
| --- | --- |
| Product Name | Mesh Bubble Filter Bag Kits |
| Material | Nylon Mesh |
| Capacity | 1,5 or 20 gallon etc |
| Quantity | 3/4/5/8 bags |
| Color | Purple, Yellow, Red, Blue, Orange, Black, White, Green |
 Bubble filter bag Product Description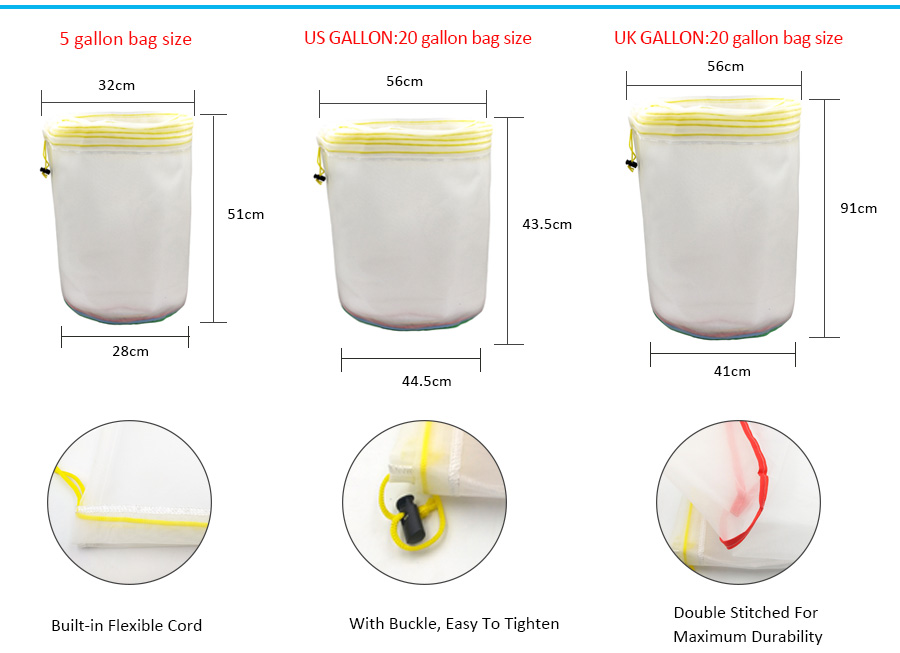 How to use bubble hash filter bag kits?
1.First, Place bags into bucket starting with Purple = 25 Micron then White, etc. all the way up to Blue = 220 Micron into
the bucket.
2.And then, fill the bucket with enough cold water to cover the bottom of the Bubble Bags (about halfway full).
3.Put in Your Frozen and Dried Plant Trimmings.
4.Add enough ice to almost fill your bucket to the top.
5.Begin Stirring the Ice and Plant Trimmings for About 15 to 20 Minutes, and Let it sit for 30 Minutes.
6.Pull the Bags Out One at a Time from the Water Bucket.
7.Extracted Herbal will be Available for you to collect.
8.Remove the excess moisture using the pressing screen and a tea towel, and use your new herbal extract!
Pre: Wood Screen Printing Squeegee