12-14-20
» 100 micron filter bag nylon mesh
100 micron nylon mesh filter bag details:
Food Grade nylon filter bag, high toughness, good elasticity, corrosion resistance, wide range of use, environmental protection material, safe and reliable, can be natural degradation, non-polluting, protect the environment, beneficial to health.
Nylon Filter bag using high-strength nylon woven mesh car sewing into, and the use of a unique technology to prevent the maximum degree of needle leakage, the filtration of the larger than its own mesh of impurities directly trapped in the material surface, the diameter is smaller than the mesh number of particles into the downstream through the mesh hole, so the nylon monofilament filter bag to achieve the surface filtration,Smooth surface is also easy to clean, can be used repeatedly.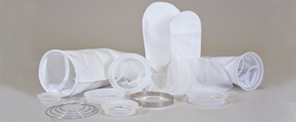 100 micron nylon mesh filter bag Feature:
Material: nylon monofilament or nylon filament (NMO for short)
Bag mouth design: PP Plastic ring, galvanized steel ring, stainless coil, polyester rope.
Application: The food and beverage industry recommended the use of 80 mesh ~350 nylon filter mesh, the chemical industry recommended 80 mesh ~150 purpose nylon filter.
Advantages: Strong alkali resistance, temperature of 150 degrees ~170 degree, and has a good resistance to deformation and wear resistance, can be repeated cleaning, filtration efficiency is not affected.
Disadvantage: cannot withstand strong acid.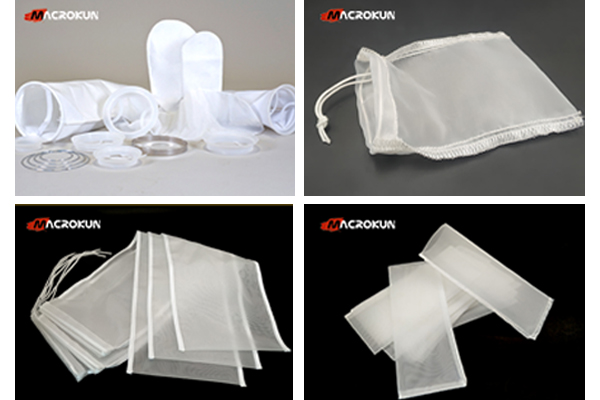 100 micron nylon mesh filter bag Application:
Liquid filtration, powder filtration, oil, mining, pharmaceuticals, chemical plants, paints, inks, oil products filtration, alcohol filtration, paint filtration, dye filtration, resin, MSG, fishery, impurity filtration, food and other industrial screening and filtration.
The specification of industrial filter bags is selected:
1. Filtration of soy milk (with slag class) recommended 100 mesh-160 mesh nylon mesh.
2. Filtration of milk, water, etc. (filter out small impurities) recommended 150 mesh-200 mesh nylon mesh.
3. Filter out impurities such as the naked eye in the tap water, it is recommended to use 280 mesh-350 Purpose nylon filter net.
4. The separation of the skin residue of wine, it is recommended to use 80 mesh-120 purpose nylon filter net.
Food grade nylon mesh bags is widely used in the separation of grape skin and wine juice, soy milk, fruit juice, honey, tea, coffee, milk enzymes, edible oil and other food liquid filtration.
nylon mesh filter bag SPECIFICATION:
Type
Mesh/CM
Mesh/inch
Wire Dia.
(um)
Mesh Opening(um)
Open Area
(%)
Thickness
(um)
JPP32/100
32
80
100
213
46
186
JPP36/100
36
90
100
178
41
189
JPP40/100
40
100
100
150
36
192
JPP44/100
44
110
100
127
31
195
JPP48/80
48
120
80
128
38
150
JPP56/60
56
142
60
119
44
96
JPP59/60
59
150
60
109
42
110
JPP64/60
64
163
60
96
38
116
JPP72/50
72
183
50
89
41
90
JPP80/50
80
203
50
75
36
93
JPP88/43
88
224
43
71
39
70
JPP96/43
96
244
43
61
34
74
JPP100/43
100
254
43
57
32
75
JPP104/43
104
264
43
53
31
76
JPP110/43
110
280
43
48
28
78
JPP120/43
120
305
43
40
23
80
JPP130/43
130
330
43
34
19
83
JPP140/38
140
355
38
33
22
73
Pre: 25 Micron Screen Mesh/50 Micron Screen Mesh Polyester Or Nylon Filter Mesh
Next: 100T(250 mesh) polyester silk screen printing mesh / bolting cloth