11-26-20
» Rosin Press Micron Filter Bag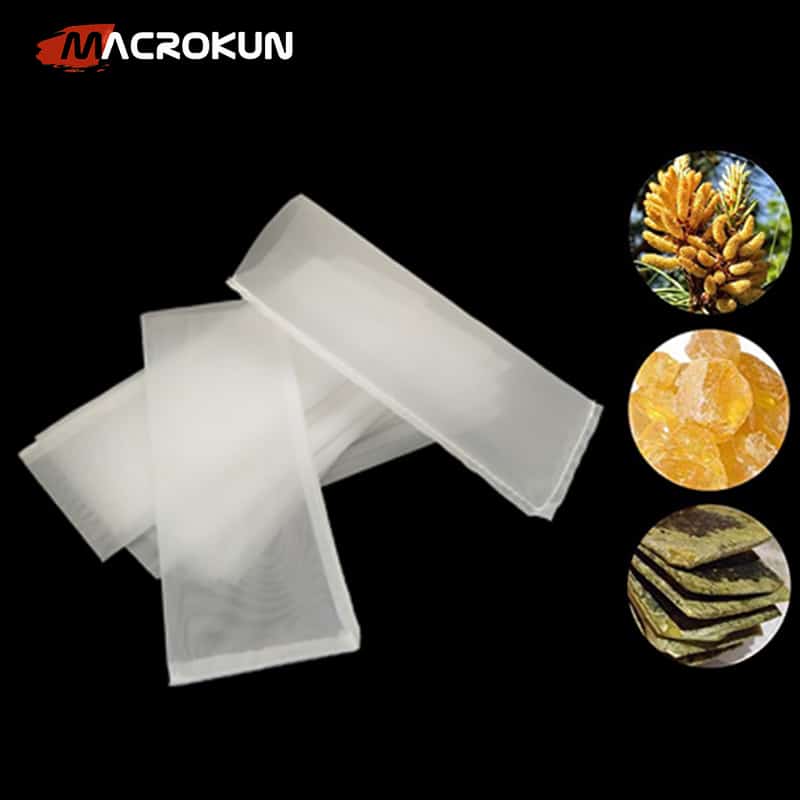 Nylon rosin heat press filter bags are your best solution to create clean and solventless extracts without using any chemicals or solvents. Our bags are made of 100% nylon, and sealed by ultrasonic welding technology, which can prevent the powder from leaking from the seam. Our bags work great with any rosin press in the market.

Product Information
| | |
| --- | --- |
| Product Name: | Food Grade Rosin Press Micron Filter Bag |
| Color: | White |
| Certificate: | LFGB(TUV certificated) |
| Size: | 1.25″x3.25″, 1.75″x5″, 1.75″x8″, 2″x3.5″, 2″x6″,2″x4.5″/2.5″x4.5″, or customized |
| Mesh Aperture: | 25um, 37um, 45um, 73um, 90um, 120um, 160um, 190um, 220um, or customized aperture |
| Sealing Type: | Sewing(bag turned inside out) or Ultrasonic welding(seamless) |
| Max Temperature: | 300ºF or 150ºC |
| Brand: | Macrokun |
| Packing: | 10pcs or 100pcs/bag or as your requirement |
| Other Application: | Rosin extracting filter bags, tea bags, food filtering, food packing, coffee filter bag, and so on. |

How to choose the right micron:
The 25 and 45 bags are the most suited for squishing dry sift, bubble, dry ice, or other very fine material.
The 73, 90, and 120-micron bags also have a specially designed seam used to keep fine particles out of your oil and prevent blowouts; they can be used for flower and lower-grade types of hash. These are also the best choices for your flower and leftover trim.
The 160 and 190-micron bags can be used to squish out the absolute most from your flower or trim.
The 190, 220, and 240-micron bags are perfect for squishing out oils to be used for edibles, full-spectrum oils for topicals, and medicinal purposes.
The rosin heat press filter bag is made of 100% nylon or polyester mesh, and sealed by sewing or ultrasonic welding technology. It is your best solution to create clean and solventless extracts such as rosin, without using any chemicals or solvents. You can Insert flowers or hash from the bag's open top. Each pocket will hold 5-8 grams of flower or about 15 grams of hash.
Pre: Wooden Handle Printing Squeegee
Next: Nylon rosin filter bag