02-22-21
» Polyester screen printing mesh
Polyester screen printing mesh
The mesh count was considered a medium course screen, has high tension and low elongation, with excellent tear resistance and dimensional stability, the mesh count screens are the most versatile and the most commonly used in screen printing. Screens on the lower end of the mesh count spectrum put down heavier ink deposits and are ideal for printing bold colors on dark textile fabrics.
Description:
| | |
| --- | --- |
| Product Name | 54T(137 mesh) polyester silk screen printing mesh / bolting cloth |
| Material | 100% polyester monofilament |
| Mesh Count/cm | 54T |
| Mesh Count/inch | 137 mesh/inch |
| Color | White |
| Width | 127cm, 165cm or customized |
| Roll length | 30-100m or customized |
| Thread diameter |  64 micron or 70 micron |
| Aperture | 115 micron or 108 micron |
| Thickness |  95-105 micron or 108-120 micron |
| Weave type | Plain weave |
| Feature | High tension, low elongation and halogen-free |
| Usage | Printing on Ceramics, Glass, Textile, Electronics, CD, PCB, Solar cell panel, Advertising |
| Sample | 1 m |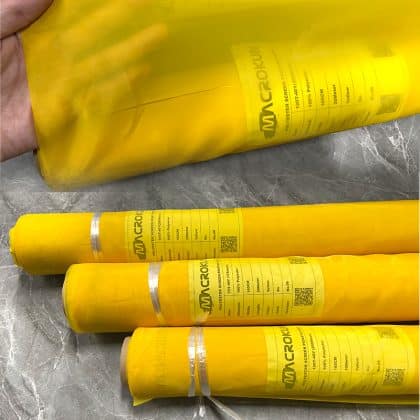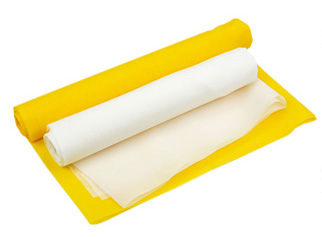 Advantages:
1.High tension and low attenuation tension
2.The screen dot is good
3.High quality stability
4.Abarsion resistance is good and long service life
High Tension: The fracture resistance is high, and the tension value of the printing mesh is
significantly higher than that of the ordinary printing mesh.
High Stability: The tension remains very stable during the printing process, thus ensuring
the printing quality and the service life of the screen.
High abrasion resistance: The high-quality fiber is used as the raw material, and the surface
of the screen is specially treated to withstand high pressure and multiple frictions.
Therefore, the screen has high safety and printing resistance.
Pre: High tension Polyester Silk Screen Printing Mesh White Yellow
Next: Screen Printing Squeegee in roll polyurethane squeegee gum