08-24-21
» CXADA SF-170 Spray Cleaning Gun
CX ADA spray gun is an advanced and efficient decontamination tool. It is suitable for high-pressure jetting of liquid to achieve decontamination function.
Product Information
| | |
| --- | --- |
| Poduct Name: | CXADA  SF-170 Spray Cleaning Gun |
| Voltage: | 220V |
| Working Pressure: | ≥0.8Mpa |
| Frequency: | 50Hz |
| Jet Flow: | 1-2ml/s |
| Working Current: | 0.4~0.6A |
| Liquid Capacity: | 0.65 L |
| Power: | 40W |
| Net Weight: | 2Kg |
| Usage: | Join liquid High-pressure outbursts liquid desmearing |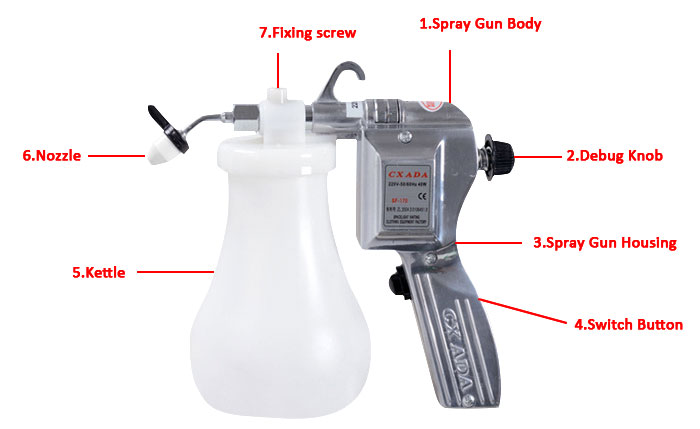 This model has advanced technology, reasonable design, high spray pressure, strong
decontamination ability and stable performance.
It is an efficient decontamination equipment that uses high-pressure liquid jets to achieve
decontamination capabilities. It is the best choice for decontamination tools in knitting, clothing,
printing and dyeing, advertising printing industries.
It can be equipped with flat nozzles and elbow nozzles, buying one is equivalent to buying two.
It is suitable for various fabrics.
Features of elbow nozzle: (1.) It can be easily adjusted to remove oil stains on thin fabrics.
3.It will not cause damage and perforation to remove oil stains on ultra-thin fabrics (such as silk).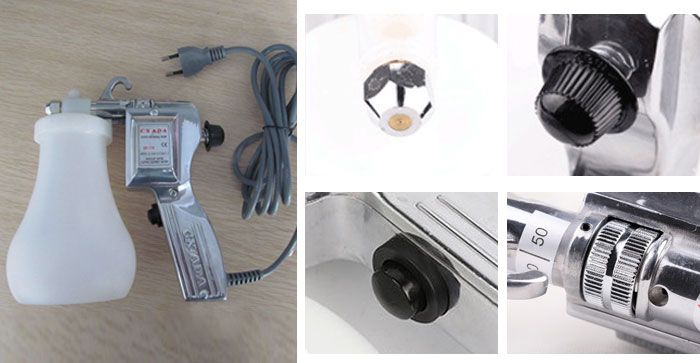 Precautions:
Please inject 1-2 drops of lubricating oil into the oil hole before each use and after 1 hour of use.
(After using the spray gun continuously for a long time, please rest properly to avoid overheating damage).
Operation Steps
Fill the liquid bottle with spray liquid. Connect the 220V AC power supply, press the button switch, the gun will start, there is a strong vibration and impact sound, a few seconds later, it will start to spray, and turn into a low normal working sound, after which press the switch to trigger it.
If it fails to work normally, try adjusting the rear knob. The method is: first turn the knob in and
then slowly retreat to achieve the lightest sound and the highest pressure. (Note: Do not adjust the position at this time.) Test the pressure at a distance of 50cm from the nozzle by hand, which has strong tingling.
The effective distance of decontamination is 10-15CM between the nozzle and the object.
Operate at a downward inclination angle of 45 degrees, and spray repeatedly until the stain is removed.
Pre: 48/50/90/100/120/140/200 Micron 165 cm Polyester Filter mesh
Next: Para hacer leche de almendras y cerveza fría, estas versátiles bolsas de leche de nuez son *tan* perfectas