04-13-20
» Butterfly Frame Hinge Clamp
The screen-printed hinge clamp is used to fix the screen frame during printing. We also call it a silk-screen butterfly clamp. This hinge clamp is a durable cast aluminum clamp with wide wing screws that can be firmly fixed on a wooden or aluminum frame. They are easy to install and have a positive locking function for perfect registration. Durable and rust-proof. Used to fix the screen frame to the table or workbench.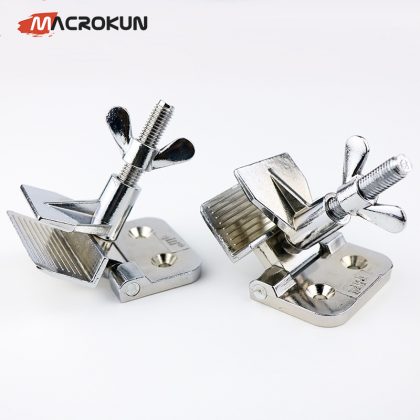 Product specifications
Name: Butterfly Frame Hinge Clamp
Material: Alloy & Iron
Net weight: 410g/Pair,710g/Pair
Package: 1pair/box,50pair/carton
Color: Silver
Instructions:
1. Take a flat board and draw a straight line on a section of the board.
2. Take two points on the straight line, install screen printing clamps, and install one pair or several pairs in parallel as needed.
3. Install the screen, align the printing position, lock the chuck, flip the screen up and down, it can be used flexibly and without obstruction.
can clamp max 4.5 cm thick screen,manual measurement will have some errors,please refer to the actual product received.
Pre: Screen PrintingSQUEEGEE BLADES
Next: Bolsa de filtro de leche de nuez de algodón de cáñamo orgánico reutilizable de grado alimenticio