09-23-22
» Screen PrintingSQUEEGEE BLADES
  Screen PrintingSQUEEGEE BLADES
Screen Printing Squeegee Blades are one of the essential parts of screen printing. Squeegee blades are available in different shapes (round, beveled and sharp-edged), and hardness (durometers), and therefore in order to get the proper result when printing, the right durometer, thickness, and shape are all required.

Screen Printing Squeegee Blades Information:
| | |
| --- | --- |
| Product name | Screen Printing Squeegee Blades |
| Width | 5-500mm customize |
| Thickness |  2-30mm customize |
| Length | 100-4000mm customize |
| Color | Red,Green,Yellow,Coffee,White,Blue.etc customize |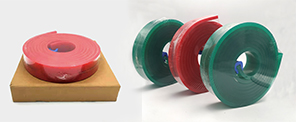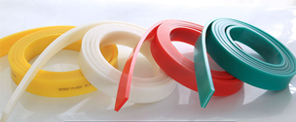 Screen Printing Squeegee Standard Profiles:
E1:Straight Square Edge
E2:Single Bevel+Flat tip
E3:Single Bevel
E4:Double Bevel+Flat tip
E5:Double Bevel (V shape)
E6:Bull Nose (round top)
E7:H shape
E8:Triple layer
E9:Double laye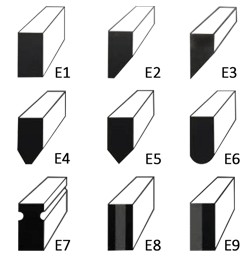 Screen Printing Squeegee Blades Advantage:
1. Comfortable design, easy handling
2. Excellent resistance to abrasion and solvents
3. High resistance to heat and pressure
4. 65/75/80 Durometer for Oil Squeezer
Screen Printing Squeegee Blades Application:
The squeegee is popular in textile, decoration cloth printing. It is solvent and middle type pressure resistance.With good performance of resistance to abrasion and water base chemical ,long life with a perfect edge. It is used for low viscosity ink printing.Textile printing,Manual or automatic screen printing machine using. normal hand type printing, such as ceramics, decal paper, and packing materials printing.
Pre: Colador de pintura de nailon de papel Embudos de papel desechables