12-09-19
» Nut Milk Filter Bag
In the hot summer, if you want to stay at home, you can use your favorite nut milk bag to complete all the delicious and healthy drinks and recipes, then you may need a milk nut filter bag.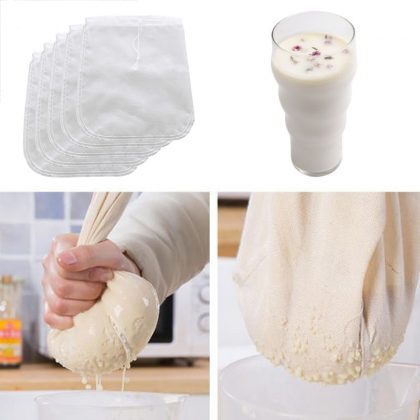 There are three types of our milk nut filter bags:
1) Nylon: This durable synthetic fiber is very suitable for cold brew and nut milk. It will not deform and is one of the strongest textile materials. It has anti-mildew effect, but nylon will be deformed when used for a long time under high temperature environment.
2) Cotton: Probably the most popular material for nut milk bags. This natural fabric is soft, affordable and biodegradable. But it is worth noting that cotton is easy to shrink after washing and is a crop that consumes a lot of water.
3) Hemp: This durable material is stronger and more durable than cotton. It is a natural insect-proof material, so no pesticides are used in the cultivation process. Cannabis does not deform, although it may have a distinct smell at first.
We support customized service, you only need to provide the specifications and bag shape you need, we can produce the milk nut filter bag that satisfies you.
Pre: Rosin Hot-Press Filter Bag