08-24-22
» 2020 Best Stainless Steel Filter Disc Strainer
Filter disc strainer also named wire mesh filter disc, screen filter disc, stainless steel filter disc strainer.It is formed of metal wire mesh.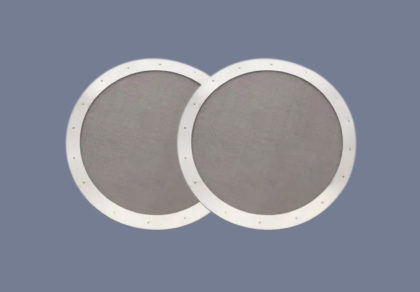 Specification of stainless steel filter disc strainer:
Material type: stainless-steel 201,304 316 316L,2080,601,carbon steel,iron,copper,brass
Filter Disc Shape:rectangle, square, round, oval,circular, rectangular, cap, waist and abnormity
Filter Disc Structure:single layer,double layer or multi-layer
Filter Disc Edge treatment:edge surrounded with stainless-steel sheet,bigger stainless-steel wire, mesh folded then spot welded
Filter Disc Raw material:stainless plate,woven wire mesh,sintered wire mesh,expanded wire mesh,perforated wire mesh,wedge Wire screen,black wire mesh,galvanized wire mesh then on Filter Disc filtering rate:2-400micron
Stainless Steel Filter Disc Hole shape:diamond,rectangle,round,square and other special kinds as per customer's requirement.
Stainless Steel Filter Disc Size:desinged consistent with customer's requirement
Features of stainless steel filter disc strainers:
1. The filter effect is extremely stable: within the production process selected high-quality raw materials, in order that it's tough to use within the process of deformation;
2. The strength of large: high-quality materials with high, can withstand greater work intensity;
3. Simple cleaning: single layer of filter material with an easy cleaning characteristics, especially for backwashing;
4. With hot temperature performance: the very best can withstand about 480 ℃ high temperature;
5. With corrosion resistance: chrome steel raw materials itself features a high corrosion resistance and wear resistance;
6. Easy to process: high-quality materials, whether it's cutting, bending, stretching, welding and other procedures are often completed alright.
If special external and instal lational dimensions were required, it can be manufactured for you.
Pre: Advantages of Micron Nylon Mesh Filter Screening
Next: Flour milling mesh