06-09-23
» Water Resistant Diazo Emulsion
Water Resistant Diazo Emulsion
Water resistant diazo emulsion has the characteristics of,strong adhesion,good gloss,fast curing speed and good flowing property.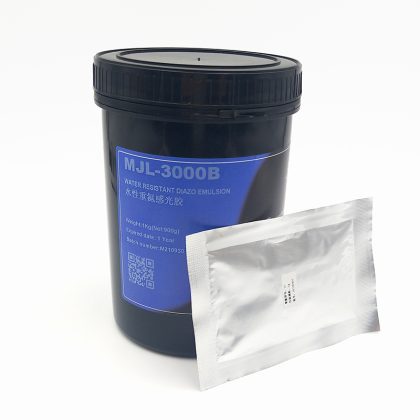 Product information:
Product name:
Water Resistant Diazo Emulsion
Product model:
MJL-3000B
Product weight:
1KG(Net:900g)
Shelf life:
1 year
Product color:
Blue colloid
Product use:
Silk-printed aluminum frame, wooden frame
stretched net fixed mesh, fast bonding
Features:
Easy to paint, short drying time, high screen production efficiency
Excellent durability, superior solvent    resistance.
Easy to reclaim, extended re-use of screen.
Waterborne diazo photosensitive adhesive is easy to use and has high bonding strength.
Pre: Aluminum silk screen printing mesh frame