11-17-21
» MK5301 Ring Mesh Gloves with Silicone Rubber Strap Full Hand Protection 
MK5301 Ring Mesh Gloves with Silicone Rubber Strap Full Hand Protection 
Feature
1. Protect you from work accidents that often occur when cutting or stabbing with a knife.
2. Flexible silicone rubber strap, adapts to all wrist sizes to ensure comfort.
3. The color-coded strap defines the size of the glove.
4. The 4-in-1 interlaced design allows the hands to move flexibly while working.
5. Steel gloves strictly comply with the European directive EN 1082-1:1996 standard
Detailed specification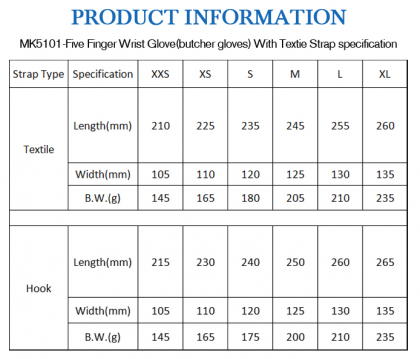 Pre: Malla de tela filtrante de poliéster de varios micrones de grado alimenticio
Next: Inkjet waterproof film