12-04-20
» PLA corn fiber non-woven Tea Bag
From the perspective of environmental issues, there is a lot of demand for environmentally friendly biodegradable tea bags. As a result, PLA non-woven materials are derived, which are suitable for fine materials. PLA non-woven tea bags are suitable for both tea and coffee.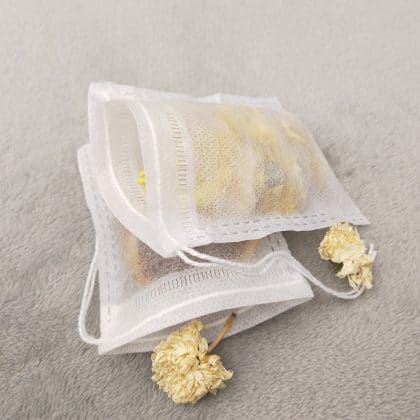 Features:
Drawstring seal design, easy to use and prevent the leakage of filter residue.
High temperature equipment pressing process, neat wiring, bag body is not easy to crack.
Using food-grade corn fiber, the texture is light and thin, the mesh is uniform, and it is not easy to leak.
Specifications
Product name: Corn fiber drawstring tea bag
Material: Corn fiber, nylon, non woven, paper, can be customized
Color: White
Size: 5×6cm, 6×8cm, 7×9cm, 9×10cm, or customized
Thickness: 0.1-0.25mm
Usage: for packing coffee, herb, seasoning, powder or tea leaf,etc
Package: 100pcs/bag
Advantage
1. Non-toxic, tasteless and harmless to human body.
2. Biodegradable.
3. Drawstring design to prevent the leakage of filter residue.
Pre: GG series FLOUR MILLING MESH