12-15-21
» Nylon Filter Mesh Bag
The nylon filter mesh is mainly made of P.P fiber woven and formed into one body. Acid and alkali resistance, good corrosion resistance. A material with low resistance, can be cleaned repeatedly, and extremely economical. We can make nylon filter mesh according to your requirements (aperture, size, shape, etc.) and application fields into various filter bags for you, such as tea bags, rosin filter bags, cold brew coffee filter bags, milk nut filter bags, paint filter bags, liquid filter bags, etc.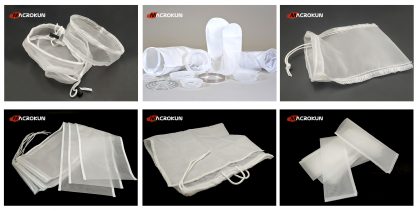 Features of nylon filter bag:
1. White nylon net made of monofilament material.
2. It has acid and alkali resistance and corrosion resistance.
3. High temperature resistance
4. Low resistance, large filtering capacity, strong dustproof performance, and can be cleaned and used repeatedly.
5. Wear-resistant, long service life, can be washed repeatedly, and the filtration efficiency is not affected.
Usage:
Mainly used for fuel, lubricating oil, fire-resistant fuel, transformer oil, petroleum, edible oil, olive oil, chemicals, liquid medicine, paint, coating, ink, alcohol, dye, resin, MSG, wine, fruit juice, food, mining , Coal, sludge, smoke, air, dust, dust filtration, etc.
Pre: 30T( 75 MESH) POLYESTER SCREEN PRINTING MESH