12-16-20
» CXADA SF-170 Spray Cleaning Gun
CX ADA spray gun is an advanced and efficient decontamination tool. It is suitable for high-pressure jetting of liquid to achieve decontamination function.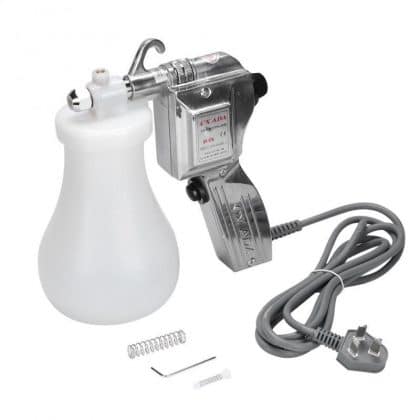 Product Information
Poduct Name: CXADA  SF-170 Spray Cleaning Gun
Voltage: 220V
Working Pressure: ≥0.8Mpa
Liquid Capacity: 0.65 L
Power: 40W
Features
1. The model has advanced technology and reasonable design
2. High spray pressure, strong decontamination ability and stable performance
3. The nozzles and elbow nozzles can be trimmed. Buying one is equal to buying two. Suitable for all kinds of fabrics.
4. Remove oil stains from ultra-thin fabrics such as silk without damage and perforation.
Pre: Cómo usar la emulsión de exposición
Next: Malla de molino harinero para criba Plansifter | Tela para atornillar tamices de nailon y poliéster