08-29-23
» Butterfly Frame Hinge Clamp
Screen printing clamps is used for fixing screen plate when printing, can be fixed to any console, you can also make your own operating station, easy to operate. It can be used for making simple handprint table.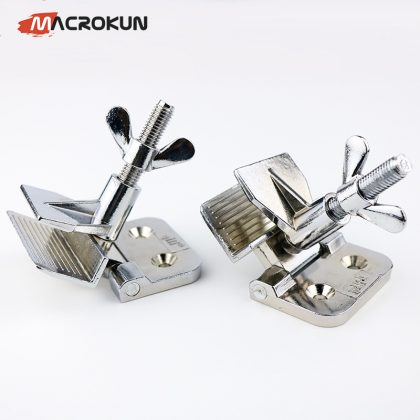 Product Information
Name: Butterfly Frame Hinge Clamp
Model: M&K-410,M&K-710
Material: Alloy & Iron
Alloy & Iron: 410g/Pair,710g/Pair
Package: 1pair/box,50pair/carton
Color: Silver
Instructions:
1. Take a flat board and draw a straight line on a section of the board.
2. Take two points on the straight line, install screen printing clamps, and install one pair or several pairs in parallel as needed.
3. Install the screen, align the printing position, lock the chuck, flip the screen up and down, it can be used flexibly and without obstruction.
Advantages:
1. Durability and Solidity, Commonly Used In Manual Screen Printing.
2. High-quality stainless steel, anticorrosion,Resistant to fresh water, Non-defrmation,resistant to rust.
3. Easy disassembly, easy to reuse.
Pre: Malla de molino harinero para criba Plansifter | Tela para atornillar tamices de nailon y poliéster
Next: scoop coater