08-09-21
» PE PET Polyester filter bag for liquid filtation
PE PET Polyester filter bag for liquid filtation  As an economical product, the non woven filter bag is made of needled
non woven fabric, it can be polypropylene or polyester, the choice 
of materials depends on the customer's requirements for temperature resistance, acid and alkali resistance.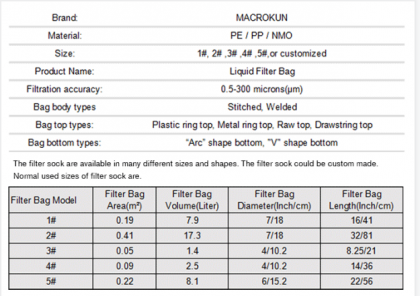 The filter bag made of PE generally can be made of metal ring or plastic ring, and the stitching method will also adopt five-thread seam hemming technology or ultrasonic welding technology. The ultimate goal is to make it stronger and will not fall off during use.
How to choose the proper filter products?
there are various characteristics and parameters for different products, we would love to help you to choose the proper products ans solutions.
The following parameters are what we have to know:
1, Working temperature(Continuous/Peak)
2, Siameter and thickness of the Tube Sheet
3, Measurement of filter bag
4, Gas chemical properties
5, Working pressure
6, Emission concentration
Pre: LIQUID FILTER BAG
Next: SCREEN PRINTING FRAME