03-04-21
» Tensile polyester mesh for silk screen filter fabric
Stretchable polyester mesh thin fabric is plain woven monofilament fabric suitable for fine silk printing. Also called polyamide printing screen, ink printing mesh or stationery ink filter fabric. Made with imported weaving looms, the monofilament mesh has a general mesh count ranges from 80 to 420mesh, inch 7-165T, mesh opening ranges from 25 to 1100um.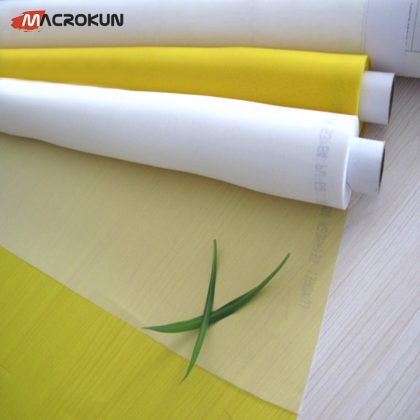 Why use polyester mesh for screen printing?
Polyester mesh cloth has the smallest fabric thickness, excellent tensile strength and tensile properties, so that the ink flows smoothly. Monofilament polyester or polyamide mesh can ensure accurate registration, precise ink deposition control and high abrasion resistance. As an alternative to real silk fabrics, this synthetic polyester mesh will not shrink, stretch or sag. In addition, our screens are dimensionally stable and have high tension, so the screen printing screens can be stretched and printed with the smallest non-contact distance. This feature ensures the most accurate and consistent screen printing results.
Know which grid number to use
25 to 40 mesh screens are very suitable for glitter or shimmer inks because these inks contain particles that cannot pass through the finer mesh.
60 meshes allow a large amount of ink deposition. It is usually used for block numbers and letters on sweatshirts
80 to 86 mesh is often used for thermal transfer, printing thick bottom paper and when using some special inks (such as puff ink).
The 110 to 160 mesh screen is the most versatile and also the most commonly used in screen printing. The screen at the lower end of the mesh range can reduce heavier ink deposits, and is very suitable for printing background colors on dark fabrics or printing bold colors. At the higher end of the grid count range, you can print more detailed images while maintaining uniform ink deposition.
The 180 to 200 mesh is very suitable for printing slightly detailed images with light inks on dark fabrics.
Screens from 230 to 280 mesh will provide detailed prints with a softer feel; however, because they allow lighter ink deposition, the prints created with these fine screens will not be as bright or vivid.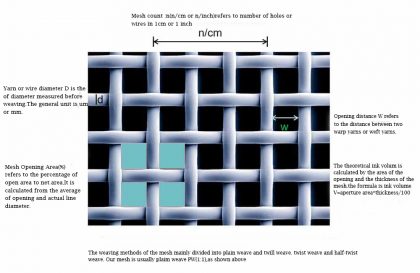 Application field
100% Polyester or Polyamide Monofilament Textile Printing Screen Mesh for plate making printing, electronic printing, ceramics, glass, stained paper printing, label plate, advertising, arts and crafts and mobile telephone dustproof aspects. Available in colours of white, yellow.