08-24-21
» Screen Printing Squeegee rack
This rack will give you decades of trouble free, squeegee organization.
This rack helps to prevent cross contamination of ink from squeegee to squeegee, and saves your valuable tabletop space.
Product Information
| | |
| --- | --- |
| Product Code | 006327 |
| Product Name | MK-GBJ Screen Printing Scraper(Squeegee)Rack |
| Net Weight | 1.15kg/2.54lb |
| Gross Weight | 1.4kg/3.09lb |
| Product Packing Size | 40*14*3 Cm15.8*5.5*1.2 Inches |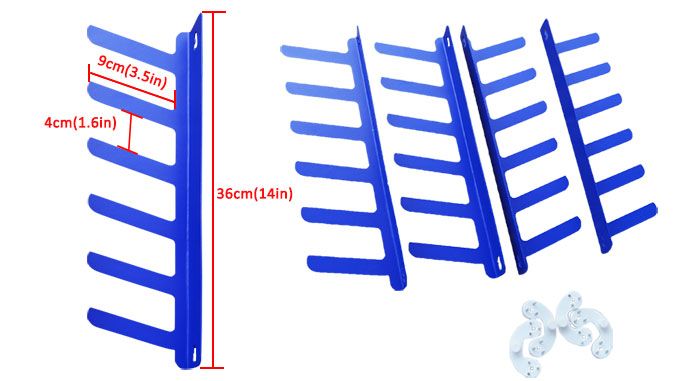 Product Display
This rack adopts high quality steel plate laser cutting electrostaticspraying process, it can be fixed on the wall
directly by non-trace nail, installation is very easy , and minimal damage to metope.
This set includes 4 pieces rack,we can make any combination and fixed according to need ;
Various sizes squeegee can be placed.
Every two racks can placed six scrapers. It is equipped with eight non-trace wall hooks.

Pre: Screen printing mesh stretching clamp