12-16-19
» Squeegee blade comes in three durometers
Squeegee blade comes in three durometers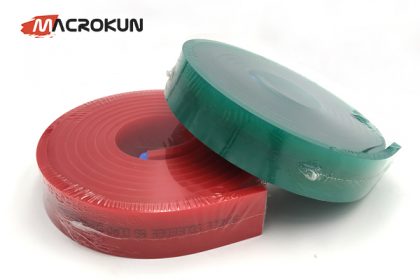 These screen printing squeegees feature a solid wooden handle or an ergonomic aluminum handle with squeegee rubber already installed.
Available from 55 to 95 durometer. Durometer is commonly the most versatile squeegee durometer on the market since it is soft enough to lay a lot of plastisol ink but hard enough to shear the ink away from the screen.
Macrokun's high-performance polyurethane squeegee blade comes in three durometers: 65, 75, and 85 Shore.
Durable sharp edge with outstanding resistance to swelling.
Maintains profile and durometer during production.
Crisp sharp printing edge.  Sold in rolls: 50*9*400mm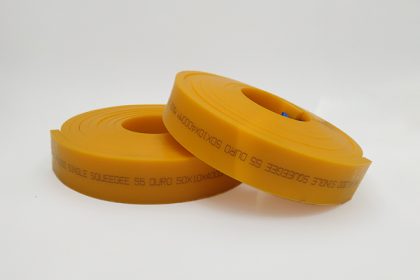 65 Durometer: Water base and discharge printing.
Using a softer squeegee blade can improve stencil life and increase ink saturation in the garment.
This will help improve color in both discharge and water base before and after washing of the apparel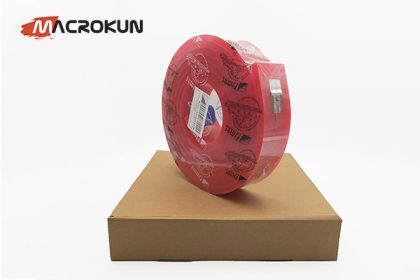 70 Durometer: is one of the most commonly used squeegee durometers for print applications.
This molded squeegee blade is resistant to swelling by solvents and can be used in almost any print application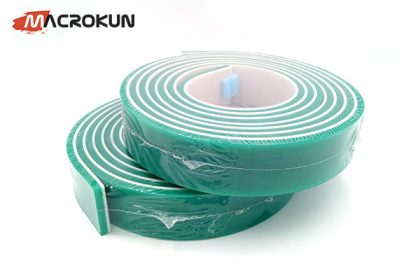 75 Durometer: This is a universal durometer that can be used for apparel printing, (all ink types), Graphic printing, Industrial and electronics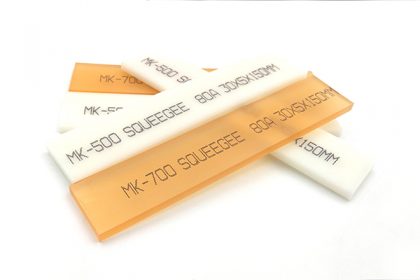 85 Durometer: Graphics printing and Apparel specialty inks.
Graphics UV printing often uses harder squeegees to control ink deposition.
Specialty inks like high density, solder pastes, and very viscous inks often need a stiffer blade to shear properly from the mesh.
Next: 64T(165mesh) polyester silk screen printing mesh / bolting cloth