01-04-23
» Screen Printing Material Rack
Screen Printing Material Rack is required by the set of screen printing operation of the scraper, ink and other materials and tools as one of the movable tool material rack; strong practicability,convenient operation, improve work efficiency.
Detailed specification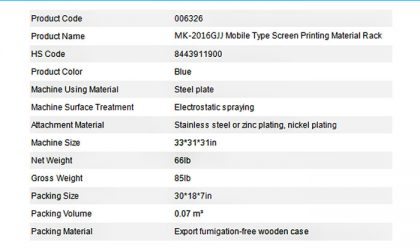 Advantage
1. Using 2-3 mm steel laser cutting process, beautiful appearance.
2. The appearance of the use of advanced electrostatic spraying process, acid and alkali resistance, high and low temperature resistance; friction resistance; rust, resistant to all kinds of cleaning cleaning agent.
3. the frame for the upper and lower three layers of design; users only need 15-20 minutes according to the installation diagram can be installed to complete.
Pre: SCREEN PRINTING KIT