11-18-21
» Cold Brew Coffee Bag
Make cold brew coffee at home!
It's so easy, and your iced coffee will never taste watery or bitter again.
WHY SHOULD YOU COLD BREW YOUR COFFEE?
This coffee-making method has a few things going for it:
The slow infusion pulls all the great coffee flavor from the beans (and, yes, the caffeine – no need to worry!).
It leaves behind most of the compounds that can make coffee taste bitter and sour at the same time.
This means that cold brewed coffee is incredibly smooth and mellow.
You can also adjust the concentration of your cold brew coffee, making it suit your taste. Start with one cup of beans steeped in four cups of water. This will make a fairly concentrated coffee on its own, but it's perfect for pouring over ice or mixing with milk – or both. If that ratio of beans to water isn't quite to your taste, adjust it up or down until you hit the perfect balance for you.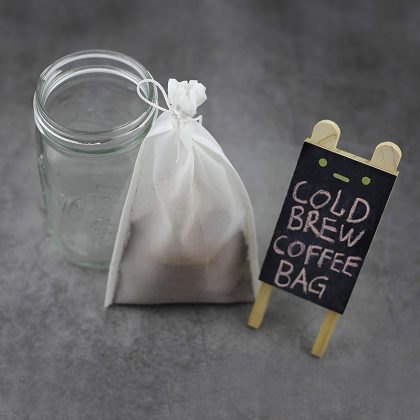 (Note: Material, size and shape can be customized)
Cold Brew Coffee Bag
Brand:
MACROKUN
Product Name:
Cold Brew Coffee Bag
Material:
Food grade Nylon (Cotton)
Number of
selling mesh:
customizable
Specifications:
8.6 * 5in etc. can be customized
Shape:
U-shaped,can be customized
Bag body
technology:
Half-lockrand, lockrand,Hemming
Closing  method:
Drawstring,can be customized
Certificate:
LFGB food grade certificate
(TUV certification), FDA
How to use the bag:
1. Put the bag into a mason jar or a pitcher
2. Put ground coffee into the bag
3. Add water
4. Put in refrigerator for at least 12 hours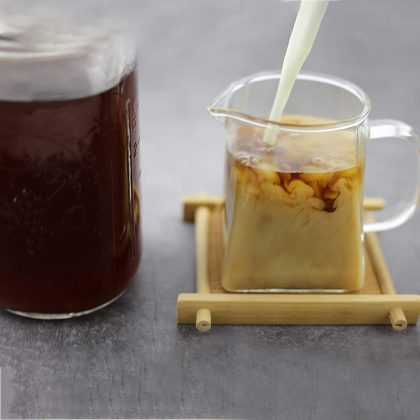 TIPS FOR SUCCESS
Make sure your beans are coarsely ground: Beans that are ground to a sandy powder, like for drip coffee, can result in an over-infused coffee and make the strained coffee gritty and muddy. Your beans should look like coarse cornmeal, or even slightly rougher.
Use filtered water, if possible: This is just good coffee advice in general. Your cup of coffee will have a cleaner, sweeter flavor if you use filtered water to make it.
Steep for at least 12 hours: It's fine to cut this time a little short, but don't get too ungenerous. The coffee needs this full time to fully inject the water. Pulling out too early could give you a weaker cup of coffee. Also be careful of over-steeping, which can begin to draw some of those bitter flavors we're hoping to avoid. I'd say not to steep for more than 15 hours or so.