08-05-21
» MKS-M screen printing squeegee
With the development of the electronics industry, the precision screen printing industry has developed rapidly, and higher requirements have been placed on screen printing squeegee. Our company introduces MKS-M screen printing squeegee from Japan, which inherits the excellent quality of Japanese squeegee, excellent solvent resistance and wear resistance, stable screen printing quality and high printing life, suitable for electronic screen printing.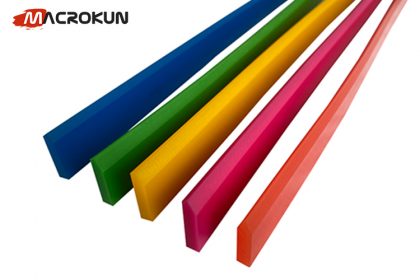 Specification

Advantage:
1. This customized squeegee is suitable for cosmetic bottle printing design.
2. Made of materials imported from Japan, with excellent solvent resistance and abrasion resistance.
3. The 90-degree sharp edge design has better support, and the knife edge is not easy to be deformed and damaged. One type of squeegee, three ink volume options.
Storage:
1.Store indoors at 40℃or lower, do not store in high temperature and high humidity, direct sunlight and ultraviolet radiation. (Recommended storage conditions: 23℃±2℃, humidity 60% or lower).
2.Do not store near heat-generating equipment or dusty places.
3.It is forbidden to bend and press, stack it straight, stack no more than 20PCS.
4.The scraping rubber is stored at a low temperature for a long time, and can not be used immediately after being moved to the workshop. It should be placed at 25℃for more than 3 hours before use.
Pre: Bolsa de filtro de leche de nuez de algodón de cáñamo orgánico reutilizable de grado alimenticio