05-19-23
» 23*31″ M3 Self Stretched Roller Screen Frame
SELF STRETCHED SCREEN FRAME
We can provide you with self stretched screen frame of various sizes!
Aluminum screen printing  frame,  this T series aluminum frames can fulfill customers' needs and are welded for great mesh adhesion. All corners are completely sealed to prevent ink from
leaking. One side is specially prepared to make fabric adhesion fast and easy.
Optional corner reinforcement is available for any frame size. Larger aluminum extrusions help eliminate frame distortion. Surfaces are anodized for maximum strength and durability.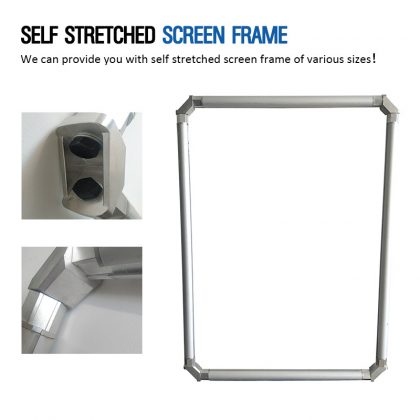 Why Choose Roller Screen Frame?
1.The product is colorful and careful, and the stability is good !
2.Various specifications can be made !
3.Customer service reception before and after sale !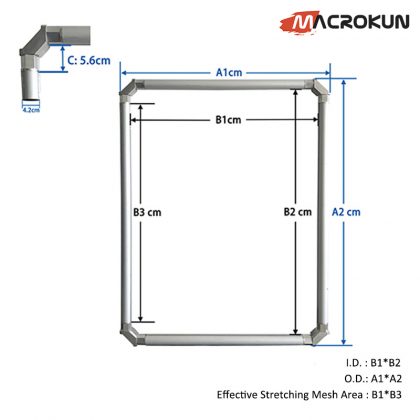 Material
Pipe Diameter
Roller Frame Size(O.D.)
Net Weight
Package Size
aluminum
42mm
26*36″
2.3kg
81*9*9cm
26*43″
2.5kg
99*9*9cm
We can customize products according to the size required by customers.
Screen Roller Frame Feature:
1.Aluminum frame, light and convenient.
2.Humanized design, greatly improving production efficiency.
3.This product is easy to clean, durable and can be used repeatedly.
4.Corners are carefully welded to provide leak free frames.
How to use M3 Self Stretched Screen Frame?
1.Rotate each roller so that the outside of the t-slot (closest to you) is aligned with the second mark on the "inside" top of corner surface.Secure both bolts of one roller before proceeding to its opposite roller, locking down each bolt using a torque wrench.
2.Preparing the mesh: Cut the edge of the mesh and rip the remaining way across. This assures thatthe mesh is torn on a single thread and that it is straight. Do the same for one of the adjacent sides of the mesh.
3.Insert the locking strip into the T-slot.
4.Softening the corners: Before tensioning, be sure to pre-soften the corners,This will prevent the mesh from tearing during the stretching process.
5.Tensioning the Mesh: Begin with either of the short rollers,Use the torque wrench to loosen each bolt of this roller two turns.
6.flatten the frame,Using a tensiometer.
Pre: Screen Printing Frame With Mesh
Next: Aluminum squeegee handle