08-16-22
» Stainless steel ink knives
Stainless steel ink knives use high-toughness stainless steel as the material, which is a key tool to keep the overall profitability of ink distribution clean, simple and fast. It is most widely used in the paint and ink industry. The flexible blade allows ink to be applied easily on the screen, making it easier to manage specific quantities.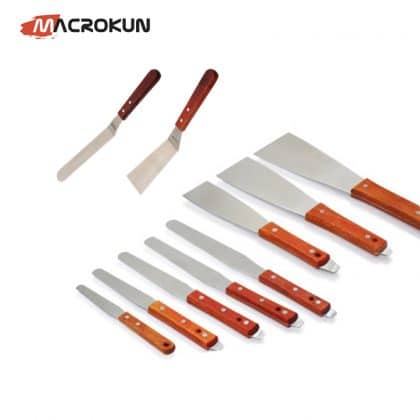 Different shapes and specifications of ink knives can meet different requirements, greatly reducing the operator's work intensity.
Features:
* High-quality stainless steel blades and high-quality wooden handles.
* Good toughness, not easy to break, corrosion resistance.
* Mirror polished, not easy to rust, good elasticity, strong bearing capacity.
* With a crowbar for opening the lid of the ink tank, the lid can be opened quickly.
* There are round holes on the handle for easy hanging.
* Well-made and ergonomic
* Different sizes meet different needs
Product Usage:
The stainless steel ink knife can be used to clean the ink on the screen printing plate, open the lid, make cakes, remove stains, etc.
Pre: Type de sol Six Six stations couleur Double Machine d'impression de l'écran de roue
Next: Elegir el rasero adecuado para sus trabajos de serigrafía