04-06-21
» Selection method, function, use method and use precautions of silk screen squeegee
Squeegee is a glue strip used in the screen printing process, and is generally called squeegee. Most of them are made of PU material. According to the characteristics of the screen-printed substrate, the accuracy requirements of the screen-printed pictures, and the different printing methods, you can choose squeegees with different hardness and different cross-sectional shapes.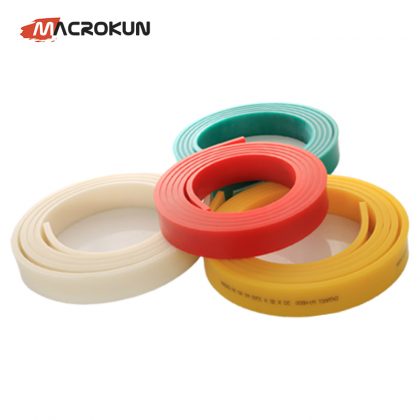 The role of the scraper:
1. Keep the screen in contact with the substrate.
2. Transfer the ink to the substrate through the screen.
3. Scrape off the excess ink on the screen.
4. It can print different shapes of substrates.
Squeegee hardness
The hardness of the squeegee is usually expressed in Shore hardness, and the hardness range is between 55 Shore and 95 Shore. This range is also used as the standard of hardness in the screen printing industry.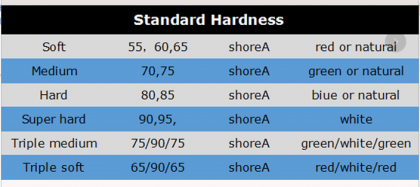 Sectional shape of squeegee
The cross-sectional shape of the squeegee refers to the cross-sectional shape of the end of the squeegee in contact with the screen. The shape of all surfaces determines the pressure on the surface of the substrate material. Different cut planes can make the ink flow more or less, thereby affecting the thickness of the printing ink layer. The section shape of the squeegee also determines the compatibility of the squeegee with the surface of the printing material, and directly affects the amount of printing ink and the fineness of the printed image. The sharper the squeegee printing end, the less the excess ink flow, the better the resolution of the printed image, and the better the printing clarity, which will thicken the printing ink layer.
Usage
Widely used in textiles, advertising, stickers, glass, ceramics, decals, tobacco and alcohol labels, bottles, containers, packaging, panels, signs, keyboards, membrane switches, PCBs, electronics, circuit boards, CDs, PVC, plastics Hand and machine multi-color printing.
Pre: Raseros / Hules /Caucho/ Gomas Para Manigueta Serigrafía
Next: MESH FILTER BAGS