05-06-20
» Nylon / Cotton / HempNUT MILK BAG
We can provide customers with customized products so that you can use your favorite nut milk bag to complete all delicious and healthy drinks and recipes at home!
Nut Milk Bag Information
| | |
| --- | --- |
| Product Name | Macrokun Nut Milk Filter Bag |
| Material | Nylon; Cotton; Hemp |
| Number of selling mesh | 80 mesh / 160 mesh / customizable |
| Specification | 8*12in,10*12in,12*12in,13*13in etc. can be customized |
| Shape | U-shaped, Round-bottomed, Square, Fan-shaped |
| Closing method | Drawstring, Zipper, can be customized |
| Bag body technology | Half-lockrand, lockrand,Hemming |
| Certificate | LFGB food grade certificate (TUV certification), FDA |
| Application | Nut,Milk,Juice, Soy milk,Vegetable juice, etc. |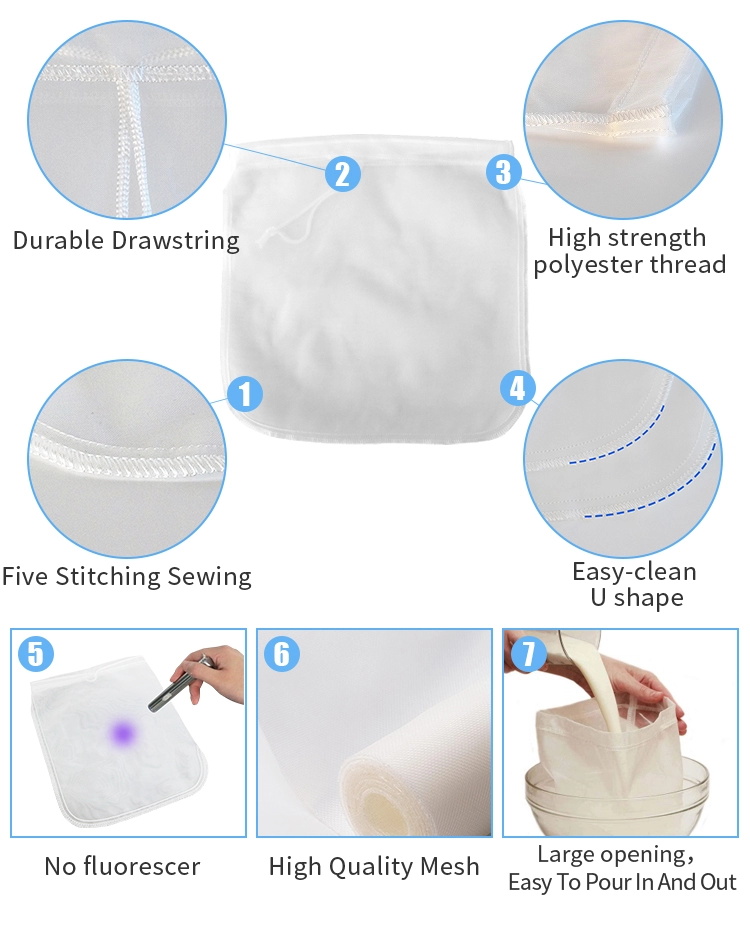 Nut Milk Bag Materials
First, consider the material options for the bag, since some may make more sense depending on what you plan to make.
✔ Nylon: This durable, synthetic fabric is perfect for cold brew as well as nut milks. It won't lose its shape and it's one of the strongest textile materials. Plus, nylon resists mildew. But, nylon can melt if it becomes too hot, so a natural material may be better if you're considering using a nut milk bag for tea or broth.
✔ Cotton: Probably the most popular material for nut milk bags, this natural fabric is soft, affordable, and biodegradable. It's worth noting, however, that cotton is susceptible to shrinking after washing and is a high-water consumption crop, so you may want to consider a hemp bag if a natural material made from a sustainable and renewable crop is important to you.
✔ Hemp: This long-lasting material is stronger and more durable than cotton, and it's a material that naturally resists pests, so no pesticides are used in the growing of it. Hemp won't stretch out of shape, though it may have a noticeable odor at first.

Nut Milk Bag Size & Shape
Look for nut milk bags with a U-shape or rounded bottom; the curved edges are easier to clean pulp out of than a bag with straight corners. In terms of size, larger options will allow for more versatile use of the nut milk bag. As mentioned above, you can make everything from yogurt to cold brew. Smaller bags are more limited in their utility and work better for brewing tea or infusing a broth with herbs.
With all this in mind, keep reading for the best nut milk bags to add to your kitchen repertoire.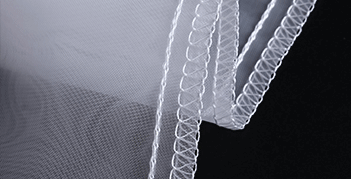 Five-thread sewing hemming technology High pressure resistance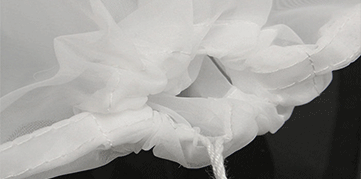 The bag can be tightened with a drawstring Easy to use ;Can be hung to dry
Pre: Lo que debes saber para elegir la malla de la serigrafía perfecta