08-24-22
» Food Grade Polyester Filter Mesh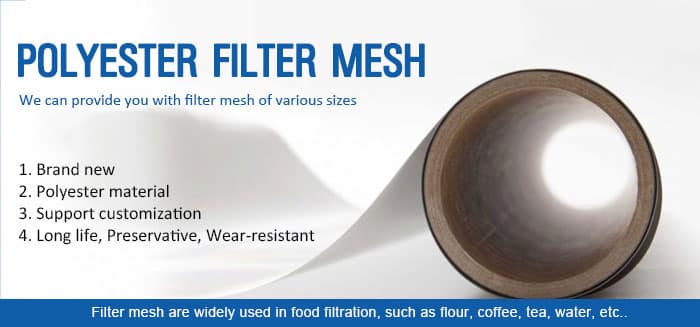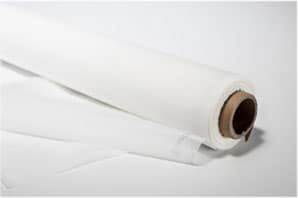 PRODUCTS INFORMATION
Product Name:Polyester filter mesh
Width: 115 cm, 127 cm, 145 cm, 165 cm, maximum 365 cm,or customized
Roll Length: 30-100m/Roll, Fixed Length,or customized

Type
Mesh Count
(Mesh/inch)
Weave
Aperture

(um)

Opening(%)
Thread Diameter
(um)
Weight (g/㎡)
08250
20
1
1000
62
250
117
12250
30
2
590
49
250
175
13140
33
3
640
69
140
56
16200
40
4
430
46
200
149
18170
45
5
390
48
170
120
19180
50
6
355
49
180
137
24140
60
7
280
44
140
110
24150
60
8
270
41
150
126
24100
60
9
320
57
100
56
29120
75
10
230
57
100
56
32100
80
11
216
46
100
75
32064
80
12
250
62
64
31
36090
90
13
190
45
90
68
39055
100
14
200
62
55
30
39064
100
15
190
56
64
38
39070
100
16
185
53
70
46
43080
110
17
150
42
80
65
48055
120
18
153
52
55
36
48064
120
19
145
47
64
47
48070
120
20
140
44
70
56
55055
140
21
130
51
55
40
55064
140
22
120
44
64
53
64055
160
23
100
40
55
48
64064
160
24
90
32
64
62
72048
180
25
91
42
48
39
72055
180
26
84
35
55
53
77048
195
27
82
40
48
42
77055
195
28
75
33
55
57
80048
200
29
77
37
48
44
90048
230
30
62
32
48
50
10040
250
31
58
33
40
37
11040
280
32
49
29
40
40
12031
300
33
50
35
31
27
12034
300
34
46
30
34
35
14031
350
35
39
29
31
30
14034
350
36
35
23
34
39
15031
380
37
34
26
31
32
15034
380
38
30
20
34
42
16527
420
39
32
28
27
29
16531
420
40
27
20
31
37
18127
460
41
25
20
27
31
20031
500
1
19
14
31
45
55080
460/120
43
55/80
55100
460/110
44
55/100
Remark:The above datas are theoretic ,please reference the actual datas if there it differs.
Introduction:
Macrokun produces and supplies monofilament polyester filter mesh(low-elongation) with a wide range of mesh counts and significant advantages compared with traditional polyester woven mesh.
High quality and precision with a wide range of from 10 meshes to 460 meshes/inch.
Our polyester monofilament woven screen meshes have excellent tear resistance which permits high fabric tensions to be achieved with virtually any commercially available stretching system. And very good dimensional stability guarantees highly reproducible tension. Precision weaving of dimensionally stable threads produces fabric with predictable and close tolerance counts and mesh opening for consistent registration and sharp resolution.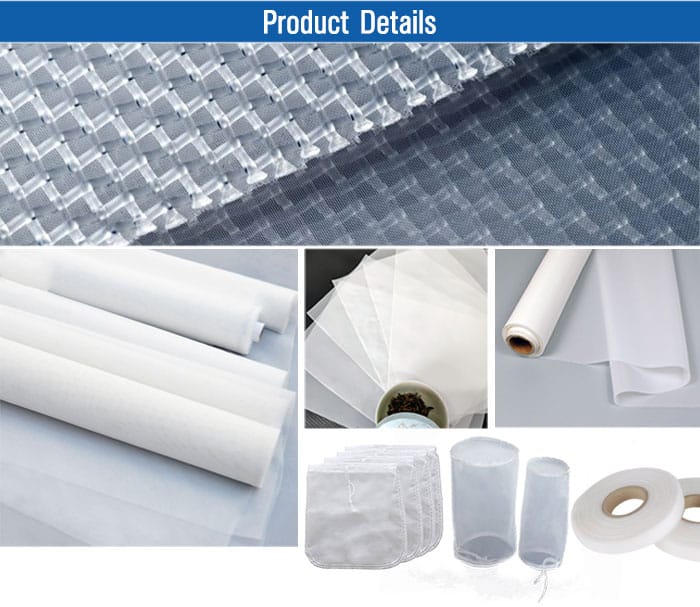 Polyester Filter Mesh Advantages:
1、Good acid resistance.
2、Temperature resistance.
3、Wear resistance.
4、High tensile strength, Low-elongation.
5、Easy cleaning, good air permeability.
Monofilament mesh is woven from yarn that is extruded from heated polyester into a single strand conventional monofilament. Polyester screen fabric will elongate under tension: the higher the tension level, the more the thread can stretch. At excessive tension levels, the thread reaches its "plastic deformation" point, and the screen will no longer hold tension.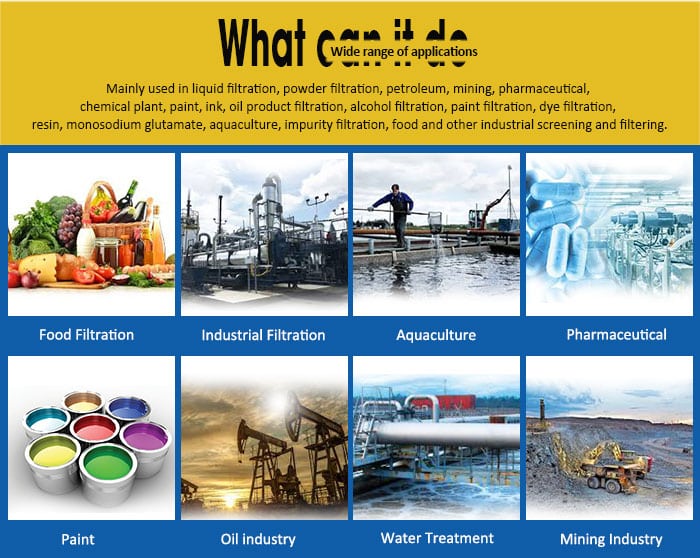 [Our Advantage]
126 sets P7100 and P7150 Sulzer weaving looms  from Switzerland, as well as Germany-made
intellectual electronic warping machine can ensure our supply ability to be 5000 meters per day.
For normal mesh count mesh and other products, usually we have stocks, goods can be shiped
out within 15 days.
Our production process fully based on the high computer technology, it is accepted as the only
company capable of having TSE ( Chinese Standard Institution ) and ISO 9001:2008. 90% of our silk screen printing mesh exported to Southeast Asia, North America, Europe and other parts in the world. We have good reputation in the world with high quality and competitive price.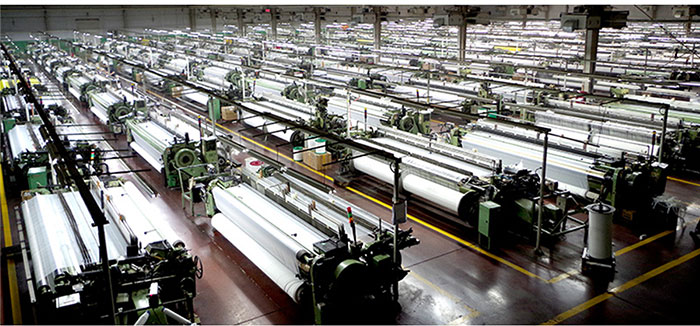 Direct factory customization, reduce the link, you can enjoy the factory price; factory large-scale
procurement of raw materials, can control the cost very well.



[Packing]
Paper tube inside, plastic bag outside, then packed in cartons.
Folding the mesh into plastic bag, then packed in cartons.
[Shipping]
Samples orders usually within 3 days shipped by Courier (DHL, TNT, FEDEX, UPS, EMS and so on)
Small quantity orders usually within 3-7 days shipped by air or by sea.
Large quantity orders usually within 7-15 days shipped by sea.
The main export port: XINGANG, BEIJING , SHANGHAI, QIANGDAO , NINGBO and so on.