09-28-22
» Butterfly Frame Hinge Clamp
Screen printed hinge clamp, also known as butterfly clamp, are made of Alloy & Iron. This product is used to fix the screen printing plate during printing. It can be fixed on any console, or you can make the console yourself, which is easy to operate.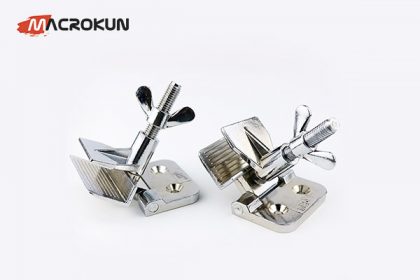 Product Information
Name: Butterfly Frame Hinge Clamp
Model: M&K-410,M&K-710
Material: Alloy & Iron
Net weight: 410g/Pair,710g/Pair
Package: 1pair/box,50pair/carton
Color: Silver
Advantage:
1. Durable and firm, often used in manual screen printing.
2. High quality stainless steel, corrosion resistance, fresh water resistance, no deformation, rust-proof.
3. Easy to disassemble and re-use.
Pre: 48/50/90/100/120/140/200 Micron 165 cm Polyester Filter mesh
Next: Nylon filter mesh