12-16-19
» Biodegradable Corn Fiber triangle tea bag
Do you remember what the tea bags you used to brew were like? Yes, they are all made of plastic and glue that are harmful to the environment. they don't know, the tea bags we use release small pieces of plastic (microplastics) in our seemingly comfortable hot tea cups, which can cause damage to our bodies.
With the progress of the times and improvements in technology, corn fiber tea bags are considered a more environmentally friendly choice because it is made from corn starch instead of petroleum products. The tea bag is sealed with ultrasound to keep the opening. It not only maintains the shape, but also allows the tea drinker to see the contents. Let drinking tea become not only a taste, but also a visual enjoyment.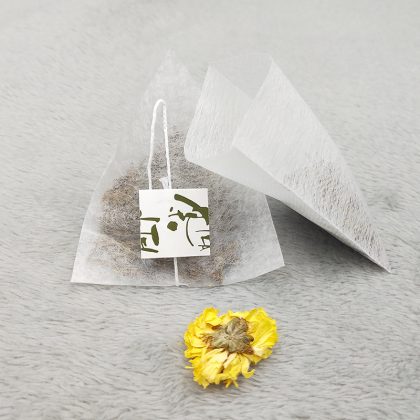 Detailed specifications
Advantages of corn fiber tea bags:
●Food grade, environmentally friendly and non-toxic.
●Unbleached, no fluorescent agent.
● Biodegradable and compostable.
●Better permeability.
●High temperature resistance.
●Transparent and clear.
Pre: Obra gráfica original y serigrafía
Next: Type de sol Six Six stations couleur Double Machine d'impression de l'écran de roue