10-12-22
» Squeege with Wooden Handle
Squeegee with wooden handle is a tool used to scrape the ink on the screen to make it leak onto the substrate. It consists of a lightweight wooden handle and a high-quality rubber strip that is extremely resistant to abrasion and solvents. Widely used in the field of silk screen printing, very suitable for garment printing, manual DIY printing, advertising printing.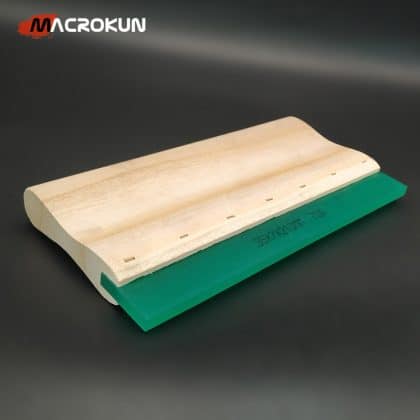 Product information:
Product name: Wooden Handle Printing Squeegee
Handle Width: 90mm,110mm,customized
Handle material: Quality wood
Handle Length: 10-100cm, customized
Squeegee material: 100% Polyurethane
Squeegee Hardness: 50-95 A
Squeegee size: 25*5,25*7,35*5,40*7,50*7,50*9mm or Customized
Blade shape: Flat, sharp, oblique, blunt
Advantage
1. Durable wood and polyurethane material, non-toxic and safe to use with high quality abrasion resistance
2. The overall product conforms to the ergonomic straight handle design, which is comfortable to hold. The handle is arc-shaped and has no edges and corners, which reduces the friction of the user's hand during use.
3. Easy to use: The scraper is a combination of scraper and handle. Insert a rubber blade into the wooden handle, drive the nail into its place, and after assembly it is sanded and ready to use.
4. Ideal printing tool: It can be used in graphic applications, textile applications, manual printing and many machine applications.
Pre: 7 Tips for Screen Printed Art
Next: Food grade 5 10 15 25 30 40 50 70 80 90 100 120 130 150 160 180 200 250 300 400 500 micron nylon filter mesh screen sieve fabric